Hollins Communications Research Institute Turns 45
Marks Milestone with Nonstop Focus on the Future
Hollins Communications Research Institute (HCRI) reaches another milestone as the center for stuttering research and treatment innovation turns 45 years old. True to form, rather than pause to celebrate the moment, HCRI President Ronald L. Webster, Ph.D. and his team are immersed in developing their latest research projects and therapy programs.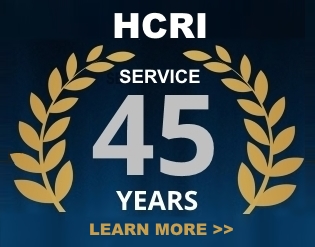 This intense focus has been a constant thread in HCRI's history. What started as a small stuttering research and therapy operation in 1972 evolved into a global center that has treated thousands who stutter with one of the most sophisticated and successful stuttering therapy programs available today.
Grounded in objective scientific analyses, HCRI's 12-day behavioral stuttering therapy involves systematic, one-on-one instruction by specially trained clinicians who guide participants through each step of the therapy process. Clients utilize HCRI's advanced technology and a proprietary mobile app during treatment to make fluency learning easier and more effective. Therapy occurs in HCRI's clinical setting, as well as in real-world environments. When clients return home, they are provided with a comprehensive package of post-therapy support to help them maintain their newly acquired fluency skills.
A commitment to continually raising the bar on therapy excellence has driven the work of the Virginia nonprofit center through the years.
"HCRI stuttering therapy is under constant study. We make refinements to the therapy as new developments are discovered that make our treatment program even more objective, precise and comprehensive for the benefit of our clients." Dr. Webster said.
Today's HCRI program is different from the original stuttering therapy introduced 45 years ago. Yet, the core behavioral principles remain. Extensive research guided the development of the initial therapy program and research continues to drive ongoing enhancements. The latest therapy additions include:
Incorporating more behavioral details into the therapy program that further facilitate speech transformation from stuttering to fluent speech
Adding new sequences of instruction to help clients acquire fluency skills more effectively
Making upgrades in electronic technologies used within the therapy program that help clients practice and perfect robust fluency skills
Research has demonstrated that 93 percent of HCRI therapy participants achieve fluency by the end of their 12-day stuttering treatment program. Follow-up studies reveal that 70 to 75 percent maintain fluent speech one and two years post therapy. These fluency results are among the highest documented outcomes of any stuttering therapy.
The institute has treated more than 6,500 individuals who stutter, aged 10 to 75, from 50 countries. These participants come from all walks of life. Their stuttering has ranged from mild to extremely severe.
"Every day we have the privilege of seeing the remarkable change in individuals when they achieve control over their stuttering. The ability to speak fluently and spontaneously transforms lives. We witness our therapy alumni achieving their life goals and working in jobs that were never before possible," Dr. Webster noted.
"As the institute turns 45, our eyes remain on the future and the possibilities for more breakthroughs that advance stuttering therapy, as well as our knowledge of this unique disorder" he added.
For example, HCRI is partnering with the National Institutes of Health to research and determine the impact of mutant genes on therapy participants. The findings may lead to new and more individualized forms of therapy, based on the unique genetic composition of each person.
HCRI's list of innovations continues to grow with each passing year. The institute has been the first to:
Research and define specific speech muscle behaviors called "targets," which replace distorted muscle activities that produce stuttering
Invent the concept of behavioral stuttering therapy that works across the spectrum of stuttering types and severities
Invent and patent the Voice Monitor, a real-time, computer-based speech measurement and feedback system. The Voice Monitor makes fluency-skill learning more exacting for clients and significantly increases clinical efficiency.
Use electronics and computers in therapy to make learning new speech-muscle behaviors easier and more exacting
Incorporate systematic, quality-control procedures into the therapy process to optimize fluency outcomes
Change the clinician's role in therapy to serve as an instructor, rather than a counselor, through the use of specific training protocols that foster client self-reliance and self-control
Introduce the first web-based home practice tool, Fluency Net, that reinforces skills learned in therapy
Build a stuttering therapy system using an internet platform, which enables the capability to expand the reach of quality-controlled therapy around the world
Develop a mobile app that serves as a "clinician in your pocket," providing real-time speech feedback to stuttering therapy clients, helping them practice and stabilize newly acquired fluency skills
Create a training program exclusively for HCRI stuttering therapy clinicians to ensure consistent, results-based therapy delivery. This rigorous 500-hour program exceeds available professional training or certification in the field.
Invent the first Speech Microscope that quantifies physical details in speech signals. With development continuing, the Speech Microscope offers the potential to change how speech is conceptualized and measured, adding greater precision and effectiveness to the therapy process.
In addition to the center's many accomplishments, HCRI has important new initiatives underway. The institute is testing remote-access therapy and identifying ways to improve it in order to expand therapy services to more people via the web.
Also, a unique program is in beta testing that helps young children who stutter overcome their stuttering. This program includes parents in the therapy process and imparts specialized techniques for parents to use in the home to help their children control stuttering.
"At HCRI, our team keeps pushing forward to learn more, do more and help more individuals who stutter. The future is bright and we intend to seize every opportunity to advance both stuttering therapy and our knowledge of stuttering," Dr. Webster said.