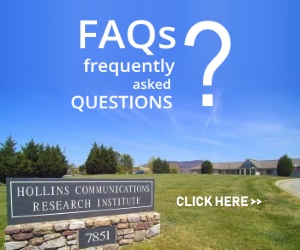 You Can Do This!
Our 12-day HCRI stuttering therapy is one-of-a-kind. It's practical. It's powerful. And, it puts you in full control of your speech. We have helped people from every U.S. state and 50 countries who have come to our nonprofit center for life-changing stuttering treatment.
HCRI President Dr. Ronald. L. Webster developed the first comprehensive and effective behavioral therapy for stuttering after extensive research that revealed stuttering is a physical condition – and not caused by mental or emotional factors. Through the years, Dr. Webster and his expert team have continued to raise the bar on stuttering treatment through ongoing research, therapy innovations, and creating new standards of clinical excellence.
Our next-generation stuttering therapy program, Hollins Fluency System III: High Definition Speech Reconstruction for Stuttering, is the most advanced of the stuttering therapies we have developed. It further elevates HCRI's award-winning program by making fluency acquisition even more powerful, specific and learnable for persons who stutter.
As a result, you benefit from an effective, easy-to-understand stuttering therapy that yields fluency skills you can use successfully for the rest of your life.
Train Like an Athlete to Speak Like a Poet.
HCRI stuttering treatment takes commitment and practice. You'll find it unlike any other speech therapy you've tried. Our tested approach is systematic, quality-controlled, and results-driven.
During your stuttering treatment, you'll work with expert clinicians (our "trainers") and learn new ways of using your speech muscles. You'll exercise those muscles rigorously and precisely, with the same intensity as an athlete who trains to win. You'll benefit from specialized fluency tools and ongoing support. And, you'll reach your finish line by freeing your voice through fluency.
Know Your Likelihood of Success BEFORE Therapy.
We have treated 6,500 people, representing a full range of stuttering types and severity. So, you can be assured we have successfully treated a speech condition like yours. It is important to note that not everyone is successful – and there is no "cure" for stuttering. Yet, data show that the majority of people become fluent with HCRI therapy. 93% achieve fluency in 12 days and 75% retain fluency when evaluated two years post therapy. That means you can expect similar results.
How HCRI Can Improve Your Life. What Would It Mean to You?
We stay in close contact with our therapy participants. Recently we surveyed them and asked how HCRI stuttering treatment impacts their lives.
79% said their personal happiness and satisfaction increased post therapy.
69% said they improved their social life and relationships after their HCRI experience.
84% reported increased confidence after participating in HCRI stuttering therapy.
78% said HCRI therapy participation helped enhance their quality of life.
These are real benefits experienced by HCRI clients. Consider how program participation will impact your life.