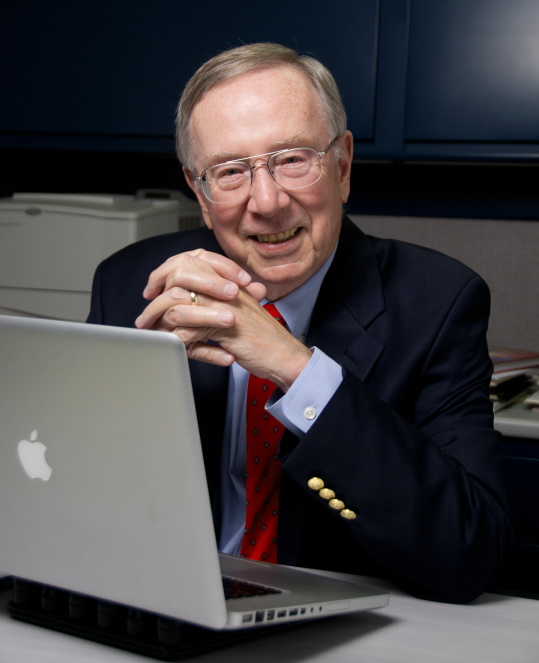 National Stuttering Expert
Clinical Psychologist
Professor of Psychology
Author
Featured Speaker

Biography
Ronald L. Webster, Ph.D. is president of Hollins Communications Research Institute (HCRI), a national stuttering research center he founded in 1972 to investigate stuttering, develop new treatment approaches and administer life-changing stuttering therapy. Stuttering impacts three million people in the U.S. and 66 million people globally.

In addition to leading a national stuttering research program and nonprofit institute, Dr. Webster is a licensed clinical psychologist in the Commonwealth of Virginia and Professor of Psychology (Emeritus) at Hollins University in Roanoke, Virginia. Dr. Webster serves as an adviser on the application of learning principles to training, as well as a reviewer, featured speaker and researcher.
He trained clinicians from Israel, Holland, Canada, England, and China in the delivery of stuttering therapy. Dr. Webster consulted in the Middle East and Holland, and lectured in England, China, Belgium, and Canada. Based on the inherent, physical connection between hearing and speech.

Dr. Webster also founded The Hearing Center at HCRI in 1992. This nonprofit center provides people with in-depth hearing assessments and technologically advanced hearing solutions to enhance their quality of life.

Transforming Lives Through Fluency
Dr. Webster invented the concept of comprehensive behavioral stuttering therapy after he and his HCRI research team demonstrated that stuttering is a physically based phenomenon. This scientifically based discovery introduced a dramatically new way of thinking about stuttering and treating the misunderstood condition.

Since introducing the first behavioral therapy program 45 years ago, Dr. Webster and his researchers have continued to innovate and transform stuttering therapy by developing specialized electronics, computer software programs, quantitative speech measurement tools, detailed clinician training protocols, and technologically advanced therapy tools, including a "therapist in your pocket" app. U.S. patents have been awarded to Webster's HCRI for some of these stuttering therapy innovations.

Research and Published Work
HCRI's research has been supported by grants from the National Institutes of Mental Health, National Institute of Child Health and Human Development, U.S. Department of Education, J.M. Milbank Foundation, Phillip Morris International, and Arthur M. Blank Family Foundation.

For more than 20 years, Dr. Webster and HCRI have partnered with the National Institute on Deafness and Other Communication Disorders (NIDCD) to advance the scientific understanding of stuttering. Working together, HCRI and NIDCD teams discovered the genetic link to stuttering. The results of their breakthrough research were published in the February 2010 issue of the New England Journal of Medicine.​ Dr. Webster's HCRI also collaborated with NIDCD on another pioneering study that evaluated stuttering therapy outcomes among a group of stutterers who possess one of the four known mutant genes for stuttering in comparison to a group of stutterers who are not mutant gene carriers. The results were published in the 2019 July/August edition of the Journal of Communications Disorders.

Dr. Webster authored an inspirational children's story book on stuttering, "Katie: The Little Girl Who Stuttered and Then Learned to Speak Fluently." He also recently published a comprehensive book on stuttering and treatment that offers new insights and dispels the misinformation that surround the disorder. The book is "From Stuttering to Fluent Speech, 6300 Cases Later: Unlocking Muscle Mischief."

In addition, Dr. Webster has written dozens of stuttering articles and book chapters throughout his career that have appeared in the Journal of Speech and Hearing Research, Journal of Fluency Disorders, Journal of Abnormal Psychology, and others.