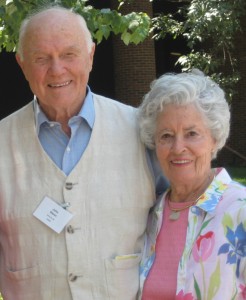 One of Hollins Communications Research Institute's early stuttering therapy clients is Annie Glenn, the accomplished wife of astronaut and Senator John Glenn. Annie has been a long-time advocate and supporter of HCRI stuttering therapy.  She serves as a role model for people who stutter across the country. She is pictured here with husband John during a visit to HCRI.
Her life, along with the lives of other astronaut wives, will be showcased in ABC's new series, "Astronaut Wives Club," which debuts on June 18 at 8 p.m. EST.
The show is based on the book by the same name, written by Lily Koppel. The book and series focus on seven women, including Annie, who were key players behind some of the biggest events in American history. Actress Azure Parsons plays Annie.
For more information about Astronaut Wives, visit https://abc.go.com/shows/the-astronaut-wives-club.
To learn abut HCRI stuttering therapy, click here: 12-day HCRI Stuttering Therapy Program.