This article is written by HCRI Alumnus Gerald R. McDermott, Anglican Chair of Divinity at Beeson Divinity School. Dr. McDermott attended HCRI stuttering therapy early in his academic career. The fluency skills he acquired at HCRI were what he calls "life changing," as he went on to write 18 books and speak nationally and internationally. To read about Dr. McDermott's journey from stuttering to fluency, click here.
Dr. McDermott will be speaking at HCRI's alumni retreat in Roanoke, Virginia on April 29-30, 2017. He recently published Famous Stutterers, a book designed to provide encouragement to others who stutter. The book highlights 12 famous people who achieved greatness while struggling with their speech impediment. The following article provides insight into his perspectives on stuttering and some of the learning he shares in his book.
---
Most of us have a demon that wakes us up in the middle of the night.  Or an affliction we worry about while driving to work.  Much of life is keeping the demon at bay.  Or managing the affliction so that we can get things done despite it.  If we're honest, we often wonder if there are better ways to deal with our problem.
My demon was stuttering.  The 2010 movie "The King's Speech" about King George VI was painful for me to watch.  I realized it was a great film cinematically, but every time King George VI puffed his cheeks helplessly as he tried to get out a word, I felt his frustration and fear.
People who hear stutterers block on words occasionally think it might be trivial, or a minor annoyance at most.  But they don't know the times when occasional blocks mysteriously morph into paralysis, when even sounds that are normally effortless become mountains to climb.  They have no idea of the apprehension when answering the phone, or the nervousness when, caught in conversation that goes quickly, we are afraid we won't be able to reply at the right pace, and all eyes will turn to us as the conversation suddenly stops.  They don't know of the worry for weeks about upcoming speeches or presentations – not over what to say but whether we can get our tongue to cooperate.
In my first 35 years, I participated in several versions of speech therapy, but none made much of a difference.  I continued to live in fear.  Not much changed until, at the age of 37, I found HCRI and attended the Institute's behavioral stuttering therapy program.  At the Institute, I learned new, sustainable speech skills that changed my life.  For the first time I could speak publicly without fear.  Slowly a whole new career opened up to me.
The ability to speak fluently at will is a gift few people truly appreciate – unless they stutter. Yet, history is full of famous stutterers who wrestled with this demon for most of their lives.  Remarkably, they managed to accomplish great things for the world: Moses, Aristotle, Civil War hero Joshua Chamberlain, Marilyn Monroe, Winston Churchill, John Updike, and others. We can learn a lot from these noble souls.
Here are five lessons they can teach us.
1. It's not the end of the world. Moses was forced out of his self-pity by God's command to lead his people despite Moses' being "slow of speech and of tongue" (Ex. 4:10).  As a result, he discovered that stuttering did not cripple him.  He still stuttered, but he managed to lead a nation through perilous times.
In the long years before she achieved fluency with HCRI stuttering therapy, Annie Glenn (astronaut-Senator John Glenn's wife) told herself that there was more to life than her speech. If she could not get her words out on a given day, so what?  She found ways to be happy regardless. She still reached out to friends and found joy by using her gift of music. But then HCRI therapy changed her life. With the new-found ability to speak fluently, she served as a national advocate and role model for people with speech disabilities. For more about Annie's challenges with stuttering and experience with HCRI therapy, click here: Annie Glenn Overcoming Stuttering.
Your affliction is a pain.  Got that.  But it's not the end of the world.  You can carry on and maybe even overcome it with the right stuttering treatment.  There is no need to despair.
2. You can succeed despite your affliction. Winston Churchill had his own speech impediments, combining a lisp with a stutter, but worked doggedly to overcome them, becoming one of history's greatest orators.  Moses became one of the world's greatest leaders despite a near-crippling speech impediment. Aristotle wrote with precision about the agonies of stuttering – the kind of accuracy that suggests personal experience.  Yet Aristotle nevertheless became one of the greatest thinkers of the ancient world.
You and I will probably never achieve that kind of greatness.  But we can learn from Aristotle and other famous stutterers that our own affliction need not keep us from doing great things. Along the way, we can also take positive action and seek out effective therapy for stuttering.
3. Perseverance and self-discipline are powerful tools. The ancient Athenian orator-statesman Demosthenes had a weak voice, and could not pronounce correctly words that started with "r." Yet Demosthenes became a great speaker by persistent determination. He practiced his speeches in a cave, repeated words with the "r" sound thousands of times, and ran up hills to strengthen his weak frame.  Greater body strength helped him project his voice, which was essential in a world without microphones.
The Yankee hero of the Battle of Gettysburg Joshua Chamberlain resolved when he was young that his stuttering was "intolerable." Rather than despair, he determined he would do whatever it took to find improvement.  By strength of will and using a song-like rhythm, he eventually reached a state where he could get through nine of ten difficult words with no trouble.
The lesson?  Don't give up.  Even if your plight seems hopeless, it probably is not.  Many others have been in your situation, and many have found ways to cope, carry on,  make improvements, and get help with HCRI stuttering treatment.
4. Think about how wrestling with your demon has made you a better person. Because TV journalist John Stossel knew he could not do what major news reporters do – shout out questions with split-second timing – he threw himself into deep research on stories about slow-moving things.  Better suited to his speech struggle, they were also more interesting to more people.  It is important to note that, after he attended HCRI stuttering therapy, his career opportunities soared. Today, he is an accomplished broadcast journalist and television show anchor, in addition to being a well-respected investigative reporter and author.
Princeton professor Peter Brown's years of struggling as a student trying to speak caused him to keep an eye out for shy students who seem to wrestle with an inner demon.  His affliction has given him a listening ear and caring heart.
Before you curse your handicap, give thanks for its hidden gifts.
5. Choose to focus on the positive. John Updike was another famous stutterer. At times, speaking was torture for him.  But he decided to enjoy life anyway.  He told himself that his stuttering was only a small part of who he was.  Of course, you could say that was easier for him because he was such a great writer—and you don't have an extraordinary skill.  But there have been plenty of other successful writers who have been miserable, and even taken or tried to take their own lives: Jack London, Kurt Vonnegut, Sylvia Plath, Edgar Allen Poe, Virginia Woolf, Hunter Thompson.  Professional success is no guarantee of happiness.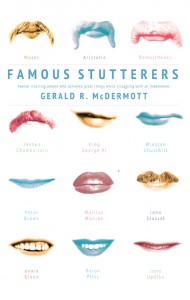 Updike chose to take a positive attitude to life, with its mix of bad and good.  He believed life is a gift, and that beauty is in the ordinary things of life.  He was one of those people who call the glass half-full rather than half-empty. Because of choosing that approach to life, Updike did not let stuttering define him.
You might struggle with your handicap the rest of your life.  But learning from these famous stutterers can help you live a happy and successful life regardless.  They can remind you that there is more to life than your handicap, you can still succeed, hard work and perseverance are necessary, your problem has its own secret benefits, and you should focus on the good things.
Dr. McDermott's book may be purchased on Amazon.com. You can follow him on Twitter at https://twitter.com/DrGRMcDermott. 
To learn more about HCRI Stuttering therapy, please visit www.stuttering.org.