The distinguished career of Gerald R. McDermott, Ph.D. spans many roles, including school principal, college professor, author, and pastor. These pivotal positions involve speaking in front of large groups, as well as talking one-on-one with individuals from all walks of life.
With his eloquent speech, no one would know Dr. McDermott struggled for years with a stuttering condition that began before he entered kindergarten. Throughout his school years, his unpredictable stutter made classroom participation difficult and embarrassing. He faced ridicule from others because of his speech.
Dr. McDermott, who is now Anglican Chair of Divinity, History and Doctrine at Samford University's Beeson Divinity School, believes that facing the challenges of stuttering when he was young impelled him to push harder and excel more in life.
Like many people who stutter, Dr. McDermott tried different speech therapies during his youth. None of the treatments produced lasting fluency. So, he moved forward with his goals in spite of his speech. He was determined that his stuttering would not hold him back.
When he was a new professor at Roanoke College, a colleague suggested he look into the stuttering therapy program at Hollins Communications Research Institute (HCRI – www.stuttering.org). "I didn't realize my stuttering was at a point that someone would mention I needed therapy. I was humiliated and in denial," Dr. McDermott said.
Nevertheless, he contacted the nonprofit institute, met with HCRI President and Founder Ronald L. Webster, Ph.D., and then enrolled in the stuttering therapy program. For three intensive weeks, Dr. McDermott systematically relearned how to use his speech muscles and adjust his breathing. The skills he acquired enabled him to control his stutter and speak fluently for the first time in his life. It was hard work and unlike any other therapy he experienced.
"HCRI stuttering therapy was transforming. The change in my speech from beginning to end was dramatic," Dr. McDermott noted. "Dr. Webster and his team are among the few experts in the world who know how to appropriately treat stuttering. The therapy strategy is brilliant and it works."
Dr. Webster, who also is a clinical psychologist and professor emeritus at Hollins University, invented the concept of comprehensive behavioral therapy for stuttering. He and his research team spent years investigating and developing his scientifically based treatment program that makes lasting fluency possible.
"We tested our stuttering treatment approach with thousands who stutter, representing a wide range of stuttering types and severity levels," Dr. Webster said. "Our data consistently shows 93 percent of participants achieve fluency by the end of treatment and 70 to 75% maintain fluent speech when evaluated one and two years post therapy."
Through the years, the HCRI team has continually refined the Institute's stuttering therapy program, now 12 days in length. In addition, they created treatment technologies that make fluency skills easier to learn and maintain. More than 6,500 people who stutter from 50 countries have come to Virginia-based HCRI for stuttering therapy.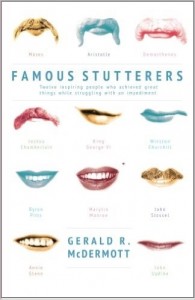 According to Dr. McDermott, his struggles with stuttering yielded many life lessons and gifts. "It is easy to feel sorry for yourself when you are living with any type of disability – including stuttering. It can rob you of your joy if you aren't careful," he said.
"It is important to focus on the positive, get treatment that works, and consider how coping with stuttering makes you a better person," he added. "Living with the disorder may drive a person to work harder, listen more, and have greater empathy for people with challenges."
To provide inspiration to others who stutter, Dr. McDermott recently wrote a book, Famous Stutterers, that showcases 12 famous people who achieved greatness while struggling with their speech impediment.
The individuals profiled experienced anger and frustration like others who stutter. Yet, none let their stuttering prevent them from using their innate talents to make the world a better place. For a video trailer about the book, click here.
——————–
About HCRI
HCRI was founded by Ronald L Webster, Ph.D. in 1972 to investigate stuttering through scientific discovery and treatment innovation. Virginia-based HCRI, a 501 (c) (3) charitable organization, has become an international leader in stuttering research and the development of scientifically derived therapy approaches.
Clients include broadcaster John Stossel; Annie Glenn, wife of Senator and Astronaut John Glenn; as well as athletes, teachers, engineers, musicians, students, doctors, military personnel, business professionals, police officers, actors, a supreme court nominee, and even royalty.
HCRI is located at 7851 Enon Drive, Roanoke, Va. 24019. For more information, visit www.stuttering.org or contact HCRI at (540) 265-5650.