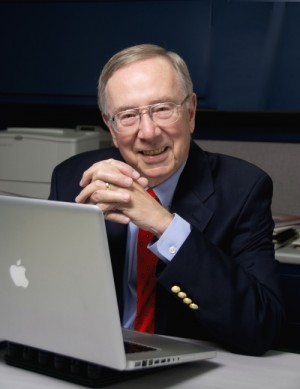 Hollins Communications Research Institute (HCRI) recently achieved the nonprofit's 50-year milestone. Founded by Ronald L. Webster, Ph.D., HCRI is a  leader in stuttering research, treatment innovation, and the delivery of effective, science-based stuttering therapy. During the past five decades, Dr. Webster and his team have conducted breakthrough research — and pioneered advancements in the understanding and treatment of stuttering.
Thousands of individuals who stutter have come to HCRI's Virginia treatment center for stuttering therapy. They have come from every state in the U.S. and 50 countries around the world.
In recognition of HCRI and Dr. Webster's half-century of work to help those who stutter, many therapy alumni sent congratulatory messages, emails and notecards to Dr. Webster. Following are some of the comments he received.
Comments Dr. Webster Received from HCRI Alumni:
"Decades of conducting groundbreaking research. Fifty years of supervising life-changing therapy.  I continue to be in awe of you, Dr. Webster, for your accomplishments and the benefits you've created for so many who have stuttered. Please accept my own profound gratitude and hearty congratulations, and my best wishes for further successes."
-Alan T.
"48 years ago I went through the therapy program, as a young man with very little hope and direction in my life. My grades were bad and my social life was not very good. After participating in the HCRI program, it felt like I was on a natural high. My grades soared and my social and personal life was so much better. I had renewed confident that I do just about anything. And I did! Thank you for giving me my life back. I will always treasure you and HCRI."
-Steve F.
"Congratulations on the 50th anniversary of HCRI. Thank you for everything you have done for those of use who were born with this problem. I feel very fortunate to have been associated with you and with HCRI for so many years.
You have done amazing work and touched so many lives, plus done so much to advance an understanding of the roots of this complex condition.  Thank you for giving me an opportunity to participate in your research when I was an undergraduate and later when I assisted with IT projects. HCRI has been such an important part of my life. I know that I owe my fluency and many other things to what I have learned at the institute."
-Cary W.
"Thank you from the bottom of my heart for developing the tools that have given me a life with fluent speech. Stuttering closed so many doors for me and I am forever grateful that your leading research found a sustainable solution."
-Josh B.
"Congratulations on reaching this incredible 50-year milestone. I can't thank you enough for helping transform my life by giving me the gift of fluency.  You are an incredible light to the world, helping to brighten it each day. We are so lucky to have you. May God continue to give you strength to lead us in health and happiness for another 50 years! Thank you."
-Avner B.
"HCRI has changed my life. People have no idea I stutter. Only my family and people back home can attest to my severe speech impediment. Your program continues to be life changing for many. But of course, it is not a pill. I am so glad you have maintained the high standards of treatment and continue to fine tune the program, as well. May God grant you many more years of health and service to the stuttering community. Happy 50th anniversary. That is quite an accomplishment!"
-Dorothy C.
"What can I say about your therapy program and follow-up. I have been allowed to have the kind of speaking life I always wanted to have. One that I can control and one that can help me realize my educational and professional goals. Thank you."
-Randy B.
"I am deeply indebted to Ron Webster. When I was a new professor wondering about my future, he gave me hope. He took unhurried time with me. Because of his bold and ingenious work, I was freed from a debilitating stutter. I am leaving tomorrow to lecture in Israel. If not for Dr. Webster, I would not have been able to do this. Thank you, Dr. Webster!"
-Gerald M.
"Words can't describe the joy I have had with fluency obtained during my time over the years with HCRI's help. As a client attending in 1974, I was able to have 'free words.' The Lord be praised. Your guidance and passion for the work accomplished these 50 years touches lives today."
-Jeannie L.
"My family, friends, colleagues, and I thank you for your amazing work. Overcoming an obstacle like stuttering brings joy to so many. I would not have had the confidence to pursue a career in law without HCRI."
-Andrew K.
"What a wonderful journey HCRI has had. Think of how many people your institute has helped and made happy. You and your staff should be extremely proud."
-Lane M.
"Many congratulations on the 50th anniversary of HCRI. As an alumnus, I can't express what the stuttering therapy program has meant to me, and how much targets have improved my life and increased my personal success and fulfillment. HCRI's research initiatives are very exciting, and I look forward to hearing about future discoveries and advancements that are sure to impact many people who stutter."
-David. O.
"Congratulations on 50 years of dedication to helping us overcome such a difficult circumstance. I just want to say thank you! I truly have no idea what I would be doing with my life if I never came to HCRI."
-Earl H.
"Congratulations to you and the HCRI staff on your 50th anniversary. Thank you for providing the gift of fluency and changing lives of individuals around the world."
-Shannon A.
"I struggled with stuttering all of my life, until I learned of your research on stuttering and how to overcome it. While it took me several times at your clinic to learn how to achieve and use the targets, they have given me fluency ever since.  Thank you for your dedication to finding a solution to stuttering."
-Keith S.
"If I were to write a book about my life, a common thread throughout would be my struggle with speech. But, now at the age of 40, I feel that the narrative would change to a story of hope.  When I attended HCRI, I didn't know what it meant to 'feel' while I spoke. But, after months fluency practice, I do know. I feel that my speech has improved, as well as my confidence. Thanks so much for all you've done."
-Michael D.
"What a pleasure it is to congratulate you on HCRI's 50th anniversary! It is a tribute to you and the excellent staff. I personally benefited from attending the therapy program, and I stay in touch regularly with my clinician. Thank you for providing a high-quality program and the opportunity for ongoing support."
-Barbara B.
"I can't thank you enough for the impact your program has had on my son. After completing the program at HCRI, he has become a lot more confident, structured and motivated. My son will be graduating early with honors and hopes to be an electrical and computer engineer. He is currently working on his college applications. His experience at HCRI has been front and center – and mentioned in all of his essays for admission due to the positive influence it has made in his life. I truly appreciate all you do for teens and adults navigating life with stuttering."
-Maria N.
"HCRI and Dr. Webster have helped thousands in 50 years. I am one of these individuals whose life has changed! From my first time in 2002 to the refreshers I religiously attended, you have given me the tools to go after jobs and opportunities I never thought possible. Dr. Webster and HCRI are our King Midas!  What you touched turned gold; and for that, we say: to the next 50 years!"
-Joel S.
"I would like to congratulate you on HCRI's 50th anniversary!  I can never thank you enough for changing my life with your program. And, I'm sure there are countless others who feel the same. Although I did not get to meet you during my time at HCRI, it was clear to see that you and your staff care about each and every one of your clients that come through. HCRI was a godsend for me. It gave me a gift that I never that was possible.  Since leaving HCRI, I have never talked more in my life and have wanted to be involved in more activities due to my fluency.  Thanks to your hard work and dedication, I am able to communicate effectively and let my opinions be heard. I cannot fully express my gratitude."
-Matt J.
---
About HCRI
Since its doors opened in 1972, Virginia-based HCRI, a 501(c)(3) charitable organization, has become a leader in stuttering research and the development of innovative, scientifically derived therapy approaches.
Specially trained clinicians at HCRI have treated more than 7,000 individuals who stutter. Clients come from all walks of life and include broadcasters, teachers, engineers, musicians, students, doctors, military personnel, business professionals, police officers, actors, a supreme court nominee, and even royalty.
HCRI is located at 7851 Enon Drive, Roanoke, Va. 24019. For more information, visit www.stuttering.org or contact HCRI at (540) 265-5650 or info@stuttering.org.