In sixth grade, Stanley D. Craig, Jr. of Richmond, Virginia, came to Hollins Communications Research Institute (HCRI) for stuttering therapy after trying other treatments that did not produce results. At age 12, he was among HCRI's youngest therapy participants.
Yet, Stan's age didn't deter his commitment to working hard during HCRI's 12-day immersion therapy. His focus and dedication to the therapy process paid off. Stan achieved the ability to speak fluently and confidently by the end of his program. For the first time in his life, he could say his name, carry on conversations, and answer questions in class.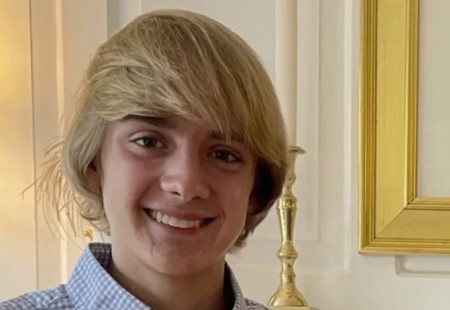 Now a 17-year-old junior in high school, Stan continues to speak fluently in all types of environments from school to social settings. He practices his fluency skills regularly and stays in touch with HCRI clinicians. He followed up his therapy with an HCRI refresher program to hone his fluency skills.
"Before HCRI, stuttering impacted my life on many levels, leaving me almost mute when I was in middle school. It took me up to 17 attempts to produce an initial sound. I developed a secondary behavior of head nodding, which exacerbated my struggles to communicate with peers and teachers," Stan explained. "While I persevered and tried to push through my disfluencies, I was treated differently by kids and adults alike."
"After HCRI, the change in my speech was remarkable. Now I am comfortable talking in any situation. HCRI therapy is life-changing and I want to do everything possible to help others who stutter," Stan said.
Stan put his words into action…
Helping Teens Who Stutter
Stan organized a support group for teens who stutter in the Richmond area. The group is called SSEAT, which stands for Stuttering Support, Empathy, and Advocacy for Teens. SSEAT provides opportunities for teens to practice their fluency skills and promotes advocacy of stuttering research and intervention.
"SSEAT's mission is to provide a safe community for stuttering teens to support each other through social, emotional, and academic impacts of their expressive language differences," Stan said.
In addition to SSEAT, Stan mentored a student who attended HCRI therapy to help him practice and habituate his speaking skills.
Raising Funds for Therapy Scholarships
Stan set up a GoFundMe account to fund HCRI therapy scholarships for those with financial need. His goal is to make life-changing stuttering therapy more accessible to those who otherwise could not afford treatment. He raised more than $8,400 within two weeks and is continuing to push for more therapy scholarship dollars.
Research Internship with HCRI
Considering his passion for helping teens and young adults who stutter, Stan reached out to HCRI President and Founder Ronald L. Webster, Ph.D. He inquired about doing a summer internship with the institute.
The two discussed potential projects that would be meaningful to Stan as an aspiring physician and research scientist, as well as beneficial to the institute. As a result, Stan's internship work will involve collecting data of speech utterances and quantifying measurements that differentiate stuttered speech from fluent speech.
"Stan is an impressive individual. I remember when he came to HCRI at the age of 12. Even then, he was a go-getter – intelligent and hardworking. I'm looking forward to his contributions," Dr. Webster said.
About HCRI
Hollins Communications Research Institute was founded by Dr. Webster in 1972 to investigate stuttering through scientific discovery and treatment innovation. Since that time, Virginia-based HCRI, a 501 (c) (3) charitable organization, has become an international leader in stuttering research and the development of innovative, scientifically derived therapy approaches.
HCRI clients come from all walks of life and include broadcasters, teachers, engineers, musicians, students, doctors, military personnel, business professionals, police officers, actors, a supreme court nominee, and even royalty.
HCRI is located at 7851 Enon Drive, Roanoke, Va. 24019. For more information, visit  www.stuttering.org, or contact HCRI at 855-236-7032 or info@stuttering.org.