As you evaluate your stuttering therapy options, the key is to find a treatment approach that is proven, effective and long-lasting. To assist in your selection process, following is an overview of the 12-day therapy at Hollins Communications Research Institute (HCRI). This one-of-a-kind immersion program was created by Dr. Ronald Webster and his clinical team.
 Below Dr. Webster provides a summary of HCRI stuttering therapy. You can use this overview to compare HCRI's offerings to other available treatment options – and determine which therapy is best for you.
Dr. Webster Explains How HCRI Therapy is Designed
When our team created HCRI stuttering therapy, we focused on the behavioral analysis of stuttering. Our goal was to develop a premium stuttering therapy that was:
1. Objective
2. Reliable in its outcome
3. General in its usefulness across different persons who stutter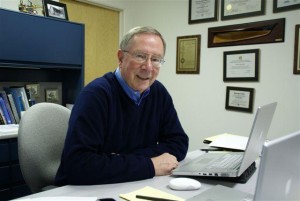 Through the years, we have applied our latest research findings to continually refine HCRI's stuttering therapy offering.
At the heart of HCRI therapy, we identified new core features that define stuttering. We developed new methods of training that empower our clients to actively generate fluent speech and to retain the skills learned in therapy.
One of the remarkable features of HCRI stuttering treatment is that it takes into account the inherent complexities of speech production and provides specialized, focused training, thereby improving the quality of our therapy process.
Our stuttering therapy represents a comprehensive treatment system that deals directly with the:
Motor malfunctions of speech
Formation of correct positioning of the vocal tract for different speech elements;
Built-in transfer training that facilitates everyday speech fluency after therapy is completed
Reduction in speech-related anxieties by means of in vivo (real world) desensitization exposure. The integration of transfer training and desensitization adds power and longevity to therapy outcomes
An additional feature is that vocal control training for fluent speech is facilitated by our electronic measurement of energy profiles that actively generate fluent speech. Our proprietary technology helps clients better learn and understand precisely how their fluent speech is being generated. Exacting physical measurements provide an unprecedented level of learning and retention of key fluency skills.
HCRI therapy is built upon the physical details that create fluent speech. By working properly with the correct physical details, you'll benefit from the strength and longevity of fluency skills.
As a result, with HCRI 's comprehensive therapy system, you will acquire skills to control your stuttering in all types of situations and speak fluently with confidence.
HCRI Fluency Results – Effective and Long-Lasting
HCRI stuttering therapy addresses stuttering that ranges from mild to severe. THe institute's clinicians have treated more than 7,000 individuals, aged 11 to 73, from across the U.S. and 50 countries.
Research demonstrates:
93% of participants achieve fluency by the end of their 12-day therapy program
75% of participants retain fluency when evaluated two years post therapy
Before-and-After Therapy Videos >>
Clients include broadcasters, athletes, teachers, engineers, students, doctors, military personnel, business professionals, police officers, actors, paramedics, and other individuals from all walks of life.
Before coming to HCRI, most program participants tried other therapies for stuttering without long-term success. HCRI therapy is designed to teach fluency skills that can be maintained for a lifetime.
More About HCRI
Hollins Communications Research Institute was founded by Ronald L Webster, Ph.D. in 1972 to investigate stuttering through scientific discovery and treatment innovation. Virginia-based HCRI, a 501 (c) (3) charitable organization, has become an international leader in stuttering research and the development of innovative, scientifically derived therapy approaches.
HCRI is located at 7851 Enon Drive, Roanoke, Va. 24019. For more information, visit  www.stuttering.org, or contact HCRI at (540) 265-5650 or info@stuttering.org.