Justin Ernest is heading to Harvard Business School this fall after four years working for Coca Cola in the company's Capital Markets Group. The Atlanta, Georgia native is eager to start his advanced degree and will study entrepreneurship and finance. His goal is to launch his own business after graduation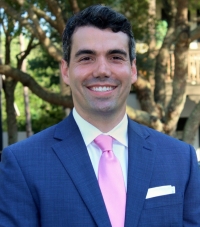 Working hard and taking on challenges are second nature for Justin. For as long as he can remember, he has coped with a severe stutter that impacted him academically and socially.
Answering questions in class, reading out loud, and giving presentations were ongoing challenges. Seeing how strangers responded when he tried to speak was unsettling, as well. Yet, Justin persisted with unwavering determination and a positive attitude.
Justin participated in different speech therapies to stop his stutter, but only experienced minimal improvement that was not lasting. He also tried an auditory feedback device to reduce stuttering. The device performed better than his therapy, yet it did not make him fluent.
Then, a friend in high school who also had a stutter told him about the stuttering therapy provided at Hollins Communications Research Institute (HCRI ). The friend's speech transformed from stuttering to fluency after attending. Justin researched HCRI's behavioral treatment program and enrolled.
According to HCRI President Ronald L. Webster, Ph.D., "During HCRI's stuttering therapy program, participants work with specially trained clinicians to systematically learn new, detailed speech behaviors that enable lasting fluency. Proprietary technology also is used in the treatment process to make fluency-skill acquisition easier for clients to master and sustain."
HCRI stuttering therapy was developed in-house by the Institute's research scientists and tested with thousands of stuttering cases. The science-based program includes 100 hours of intensive treatment in clinical and real world settings over 12 days.
"The therapy program at HCRI was more rigorous than I expected. It was fulfilling and exceeded my expectations," Justin said. "There were 10 others in the program with me, ages 15 to 35, who came from across the country. Clinician's taught us step-by-step how to replace stuttered speech with fluent speech in all types of situations," he explained.
Research demonstrates that 93 percent of HCRI stuttering therapy participants achieve fluency by the end of their 12-day treatment program. Follow-up studies reveal that 70 to 75 percent of clients maintain their fluency when evaluated one and two years after therapy.
"Stuttering is a life-long issue and there is no cure. You have to consider all your options to manage it effectively. For me, HCRI was the answer," Justin said.
Webster noted, "Highly motivated individuals like Justin are very likely to achieve long-term fluency with HCRI. A commitment to post-therapy practice is key to habituating newly acquired speaking skills."
HCRI provides clients with a comprehensive package of post-therapy resources and clinician support. Since attending, Justin uses HCRI practice tools, manuals and software, as well as occasionally participates in training calls with other HCRI alumni. He also reaches out to his clinician whenever he needs assistance.
"Fluency has opened doors for me socially, academically and from a business perspective," Justin said. "The ability to speak spontaneously wherever and whenever I want changed my life for the better," he said.
Justin offers the following advice to others who stutter.
Focus on the positive
Be open and honest about your stuttering
Spend time with a supportive group of friends
Find a treatment approach that works for you
Seek out situations that bring out the best of your abilities
About HCRI – www.stuttering.org
HCRI was founded by Ronald L Webster, Ph.D. in 1972 to investigate stuttering through scientific discovery and treatment innovation. Virginia-based HCRI, a 501 (c) (3) charitable organization, has become an international leader in stuttering research and the development of scientifically derived therapy approaches.
More than 6,500 people from across the U.S. and 50 countries have come to HCRI for stuttering treatment. Clients come from all walks of life and include broadcaster John Stossel; Annie Glenn, wife of Senator and Astronaut John Glenn; as well as athletes, teachers, engineers, musicians, students, doctors, military personnel, business professionals, police officers, actors, a supreme court nominee, and even royalty.
HCRI is located at 7851 Enon Drive, Roanoke, Va. 24019. For more information, visit www.stuttering.org or contact HCRI at (540) 265-5650.