College sophomore Russ Smith is intensely focused on his career goal of becoming a specialist in the field of dentistry. He maintains a rigorous academic schedule as a biochemistry major with a double minor in financial management and biology at Clemson University. Along with his studies, he serves as a recreational program leader on campus, participates in internship opportunities, and volunteers his time to help others.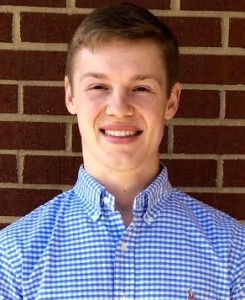 To meet the challenges of his educational and co-curricular demands, Russ faces each day with a positive mindset, commitment to succeed, and reliance on his deep, enduring faith. These same attributes also helped him take action to overcome his severe stutter, a speech condition he lived with since early childhood.
While growing up, school classmates and friends were accepting of his stuttered speech. Though, each day presented unpredictable communication challenges.
"The people who knew me appreciated me for the person I am. Yet, having a stutter was hard to deal with mentally because I didn't know how it was going to manifest itself at any moment – or in the future." he explained. In retrospect, Russ noted that his stuttering helped him become tougher, more resilient, and more determined than ever to succeed in life.
During high school, Russ resolved to do something about his stuttering once and for all. He had unwavering support from his parents. Together they researched treatment options and learned about the unique stuttering therapy at Hollins Communications Research Institute (HCRI – www.stuttering.org) in Roanoke, Virginia. They liked the fact that HCRI is a science-based treatment program, which teaches participants life-long skills to control stuttering and talk fluently at will.
According to HCRI President Ronald L. Webster, Ph.D., the HCRI therapy program has been tested with thousands of stuttering cases that range from mild to severe. "Our behavioral therapy was invented here at our stuttering research and treatment center. HCRI therapy features detailed clinical protocols and advanced technology that systematically teach participants how to control stuttering's repetitions, prolongations and voice blockages."
Research demonstrates that 93 percent of HCRI participants achieve fluent speech by the end of their 12-day program. Follow-up studies reveal 70 to 75 percent maintain fluency when tested one and two years after therapy.
Russ is quick to point out that HCRI stuttering treatment is rigorous and involves eight hours of intense therapy each day, plus homework. "You have to be totally committed to the program. Only then will you see strong fluency results and a lasting speech transformation."
When Russ attended HCRI stuttering therapy, he was 15 years old. He entered the program not knowing what to expect. With "blind faith" he followed the treatment process with precision. He saw his speech improve with each day. After 12 days, Russ achieved the ability to control his stuttering and speak fluently.
Remarking about his new-found fluency, Russ said it was a feeling of "absolute freedom." At the same time, he emphasizes that HCRI stuttering therapy is not a magic pill. Acquiring and sustaining the skills to speak fluently requires hard work while in therapy and practice post treatment.
"For our clients, we are a partner in fluency for life," Dr. Webster said. His nonprofit center encourages participants to maintain ongoing phone contact with HCRI's clinical team – even years after treatment. To help clients maintain robust fluency once they leave, HCRI provides post-therapy resources and networking opportunities, including online practice software, retreats, refresher courses, and client-run practice groups.
Russ believes the opportunity to network is an exceptional benefit offered by the Institute. He attends HCRI events and volunteers his time to facilitate a weekly HCRI practice group that helps other alumni keep their speech skills at peak levels.
"I couldn't pursue a career in dentistry without HCRI stuttering therapy," Russ said. "The dentist-patient interaction goes on all the time, every day– and requires consistently proficient communication. I'm blessed to have that ability now thanks to HCRI."
————————————
About HCRI
HCRI was founded by Ronald L Webster, Ph.D. in 1972 to investigate stuttering through scientific discovery and treatment innovation. Virginia-based HCRI, a 501 (c) (3) charitable organization, has become an international leader in stuttering research and the development of scientifically derived therapy approaches.
More than 6,500 people from across the U.S. and 50 countries have come to HCRI for stuttering treatment. Clients come from all walks of life and include broadcaster John Stossel; Annie Glenn, wife of Senator and Astronaut John Glenn; as well as athletes, teachers, engineers, musicians, students, doctors, military personnel, business professionals, police officers, actors, a supreme court nominee, and even royalty.
HCRI is located at 7851 Enon Drive, Roanoke, Va. 24019. For more information, visit www.stuttering.org or contact HCRI at 855-236-7032.