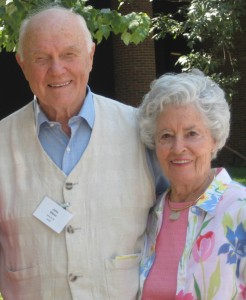 John and Annie Glenn are beloved national heroes, each in their own right. With John's recent passing, public interest in the couple's remarkable lives has continued to grow.
John is recognized as a space pioneer and made history as the first man to orbit Earth. He made history again as the oldest astronaut to complete a space mission when he was 77 years old. In addition to his NASA contributions, John's impressive military service and leadership as a four-term U.S. senator from Ohio will be long remembered.
For Annie, life was often overshadowed by the daily challenges brought on by her stuttered speech. As a severe stutterer, she was afraid to speak in social settings and meetings, use the phone, hail a taxi, order food in a restaurant, or summon help when needed. While she was able to adapt to get things done, her stutter held her back. John served as a tremendous support system for Annie, helping her navigate through life with her speech disability.
Her severe stutter was not known to many, even considering John's very public profile. The couple often appeared together and John helped to shelter his wife from speaking opportunities whenever possible.
Then, when she was 53 years old, Annie and John saw television news coverage on NBC Today about the behavioral stuttering therapy developed by Ronald L. Webster, Ph.D., president of Hollins Communications Research Institute (HCRI).
After she and John extensively researched the therapy approach, Annie enrolled in the science-based treatment program at HCRI in Roanoke, Virginia. By the end of her intensive therapy, Annie was able to  speak fluently for the first time in her life. She called John and it stunned him to hear her fluent voice over the phone.
HCRI therapy was the beginning of a new chapter in Annie's life. With her new-found ability to talk at will, Annie seized opportunities to speak out on issues and help others. She became a national advocate for people with speech disabilities and provided hope and inspiration to many.
While John and Annie are known for their many accomplishments, the Glenns are admired for their loving, supportive marriage that is viewed as a role model for couples everywhere.
At HCRI, we continue to mourn John's passing. He was a dear friend of the Institute and always accompanied Annie when she visited HCRI. John and Annie have helped raise stuttering awareness and the importance of receiving effective treatment. We are deeply grateful for all the couple has accomplished.
Following are links to some articles that have appeared over the years about Annie's struggles with stuttering and the couple's remarkable lives.