Ross S. Barrett believes luck was on his side when it comes to his stuttering and career. Yet, more than luck, it was his drive to achieve fluency, hard work, and passion that led him to where he is today.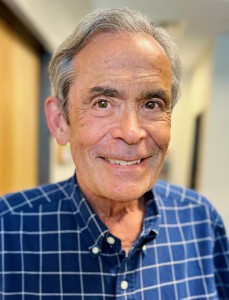 Barrett recently retired after 39 years as Director of the Precision Fluency Shaping Program at Eastern Virginia Medical School (EVMS). In character with his dedication to helping persons who stutter, he still maintains an office at the institution to provide support to former clients who may need him.
His journey to fluency wasn't easy. Barrett began stuttering at the age of two and endured his speech condition during his educational years. While many children may stutter at some point in their young lives, Barrett was among the 25 percent of stuttering kids who never outgrow it.
During his formative years, Barrett was taunted by schoolmates because of his stutter. As he grew older, his speech hindered his academic performance in high school and college. He tried traditional speech therapies, hypnosis and even faith healing to address his stuttering. None of the methods worked.
New Hope and Opportunity
When he was 28, Barrett saw an article in the New York Times about a new behavioral treatment for stuttering, which was invented by Ronald L. Webster, Ph.D. at his Hollins Communications Research Institute (HCRI). Webster founded nonprofit HCRI in 1972 to investigate stuttering from a scientific perspective and focus on treatment innovation.
Barrett refers to the New York Times article as his "first stroke of luck" on his journey to fluency. He contacted HCRI to enroll. While the waiting list was typically long to get into the immersion program, Barrett was able to secure a spot in a matter of months. He calls that his "second lucky break."
"Once I started HCRI therapy, I knew it was the type of help I needed – therapy that addresses the physical aspects of stuttering and not an approach that focuses on emotions or psychology," Barrett said.
He found HCRI stuttering therapy to be a transforming experience. For the first time in his life, Barrett was able to control his stuttering and speak fluently. By staying true to the fluency skills he learned at HCRI, he has maintained the ability to speak fluently and confidently throughout his life.
HCRI's Science-Based Therapy
HCRI stuttering therapy is a comprehensive behavioral therapy program invented by Webster and continually honed through the years. The institute's approach teaches individuals how to address misbehaving speech-muscle activities that give rise to stuttering – and replace them with new muscle behaviors that produce fluent speech.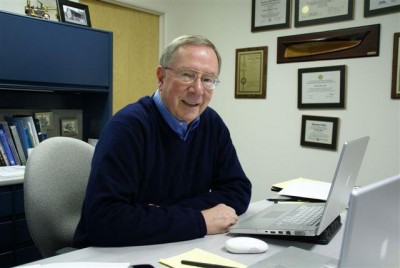 "At the heart of the stuttering problem is the faulty speech-muscle contractions that occur within the speech production system. Speech organs are forced into positions that are wrong for saying the intended sounds," Webster explained. "Stuttering occurs as a downstream result of muscle events going wrong earlier in time."
Once therapy participants are taught new ways to use their speech muscles, they acquire the ability to control their stuttering and speak fluently. Research demonstrates that 93 percent of HCRI program participants achieve fluency in 12 days, and 75 percent maintain fluent speech over time.
HCRI's specially trained clinicians work with participants using systematic treatment protocols and proprietary therapy technology that guide individuals step-by-step through the treatment process. Therapy occurs in HCRI's clinical setting, as well as in real-world environments. When clients return home, they are provided with a comprehensive package of post-therapy support and fluency tools to help them maintain fluency skills.
"Many therapy programs have evolved from the groundbreaking work Ron accomplished," Barrett said.
Changing His Career to Pursue a Passion
Barrett's experience at HCRI inspired him to change his career focus from finance to speech pathology. He went to graduate school and earned his Master's degree in speech language pathology. After graduation, he said he "lucked out" again. Webster called Barrett and invited him to join the institute as a speech therapist and administer HCRI's program.
After more than 10 years with HCRI, Barrett relocated to Norfolk, Virginia with his wife when she accepted a new position there. While in Norfolk, Barrett was given the unique opportunity to start his own fluency program at EVMS. Webster arranged for him to use a version of HCRI stuttering therapy so Barrett's clients could benefit from the same life-changing therapy that he personally experienced.
Barrett and Webster developed a close friendship through the years. Recently, Webster received a note from Barrett sharing that he had retired. Here are excerpts from that communication.
"… I ran my last 12-day therapy group in July. I have officially retired. I will keep a small office on campus just to answer past patient calls.
I wish to thank you for all your support over the years professionally and personally. The therapy you developed changed my life and thousands of others.
It was 50 years ago in July that I came to HCRI as a client. Little did I know then the impact therapy would have on my life…"

Webster said, "I was touched by Ross's note. I have tremendous respect for him and what he has accomplished. He is a valued friend and colleague."
Was it Really Luck?
Barrett sums up the role luck has had in his life by noting…
I lucked out seeing the New York Times article about Ron and HCRI.
I lucked out getting into HCRI's therapy program without a long wait.
I lucked out when Ron asked me to serve as a speech therapist at the institute.
I lucked out when Ron gave me the opportunity to use a version of HCRI's therapy program at EVMS.
Advice for Selecting the Right Stuttering Therapy
For those interested in stuttering therapy, Barrett recommends researching various therapy options and requesting a track record of success from each provider being considered. He also advises to talk with former clients, as well as get a feel for how transparent providers are about their therapy approach.
About HCRI
Since opening its doors in 1972, Virginia-based HCRI, a 501(c)(3) charitable organization, has become a leader in stuttering research and the development of innovative, scientifically derived therapy approaches.
Clinicians at HCRI have treated more than 7,000 individuals who stutter. Clients come from all walks of life and include broadcasters, teachers, engineers, musicians, students, doctors, military personnel, business professionals, police officers, actors, a supreme court nominee, and even royalty.
HCRI is located at 7851 Enon Drive, Roanoke, Va. 24019. For more information, visit  www.stuttering.org or contact HCRI at (540) 265-5650 or info@stuttering.org.