By Ronald L. Webster, Ph.D., HCRI President
Many individuals who stutter have participated in a spectrum of speech therapies beginning at a young age. Concerned parents enroll their sons and daughters in traditional speech treatment through schools and/or with private therapists to help stop the stuttering. Treatment typically begins in elementary school and can last through the teen years.
For those who experience persistent stuttering after the age of 12, these well-intentioned efforts show minimal or no lasting fluency results. Compounding the impact of stuttering in daily life, the lack of fluency outcomes from treatment produce increasing frustration, confidence erosion and thinner wallets.
At Hollins Communications Research Institute, we find that the majority of people who contact us share this real-life scenario. As adults, many reach out as a last resort. They are at a tipping point where achieving fluency can change their trajectory in life – whether it be related to their academic achievement, career choice or personal lives.
They are deeply discouraged by their past treatment experiences, as well as the time and money they invested in therapies that didn't work. When they contact us, these individuals inquire about expected outcomes from HCRI's 12-day stuttering treatment and ask about the program fee. We welcome these and other questions.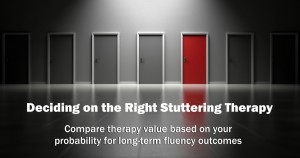 HCRI Treatment Outcomes – What You Can Expect
HCRI stuttering therapy works with a very wide range of stuttering types and severity.  After 12 days of systematic and intensive treatment, 93% of participants achieve fluency. When evaluated one and two years post therapy, 70-75% retain the ability to control their stuttering and speak fluently. This means you can expect similar results.
As you consider your therapy options, we encourage you to ask other providers for their statistics on successful treatment outcomes to better understand your probability of positive fluency results.
Science is at the core of the consistent outcomes that HCRI stuttering therapy delivers. Our in-house research scientists pioneered the concept of comprehensive behavioral therapy for stuttering after HCRI investigative work revealed stuttering is a physical phenomenon – and needs to be treated as such. Utilizing data and test results with thousands of stuttering cases, the HCRI team designed a sophisticated, powerful treatment that helps people achieve fluency in 12 days. Our therapy program has been continually enhanced through the years and is now in its fourth generation.
HCRI stuttering treatment teaches participants how to replace faulty speech muscle movements that cause stuttering with new speech muscle behaviors that enable fluency. In addition, we invented new ways to use technology in therapy that facilitate the learning of lasting fluency skills.
HCRI Therapy Cost and Value 
The cost of stuttering therapy at HCRI represents a significant value when the therapy fee and results are considered together. At HCRI, clients benefit from a scientifically proven treatment program, administered by world-class clinicians, with a high probability of a positive and lasting outcome.
The 100 hours spent in HCRI's stuttering therapy program equate to $42.85 per hour. This is likely much less than spending the same amount of time with traditional speech therapists. In addition to investing $4,285 for comprehensive treatment and post-therapy support, we recognize that travel and lodging costs will be incurred. Yet, consider these factors in relation to the speech outcomes from program participation.
At HCRI, you acquire fluency skills you can use for the rest of your life.
Also, consider the enormous value experienced daily by HCRI therapy graduates who enjoy the benefits of fluent speech in their everyday lives. After all, stuttering has significant personal costs. When you think about the human potential that is bottled up within a person who stutters, and the fact that this set of extraordinary capabilities is not realized, the costs of stuttering are enormous.
There is yet another cost of stuttering. It involves the cost that comes from missing the simple joy of speaking freely and fluently at will.
Taking into account all factors related to stuttering and treatment, the value of HCRI stuttering therapy is exceedingly strong. The treatment fee relative to therapy results yields tremendous value – quite possibly one of the best values available anywhere.
HCRI's Roanoke, Virginia stuttering treatment center is easily accessible and within a day's drive of 65% of the U.S. population. We offer several options to help you meet the cost of therapy. We have payment plans, scholarships and advice on agencies that might assist in meeting your costs. Our staff will help you in every way possible to make HCRI stuttering therapy available to you. Please contact us at info@stuttering.org or (540) 265-5650.