When stuttering therapy participants at Hollins Communications Research Institute (HCRI) complete their 12-day program, they return home with an extensive package of practice tools and clinical support to help them maintain fluency for the long term. One of these tools is a free six-month subscription to FluencyNet, HCRI's proprietary fluency practice system.
The computer-based program complements HCRI stuttering therapy by validating and strengthening the use of specific fluency-generating behaviors that clients acquire during therapy.
How Does It Work?
FluencyNet is based on the physical analysis of speech sounds as they are being uttered. HCRI's hardware and software provide…
Real-time measures of speech sounds;
An immediate evaluation of the utterances relative to HCRI fluency standards; and
Delivery of speech results in graphs plotted on the computer screen.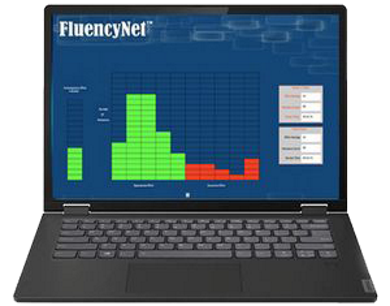 When an onscreen graph shows an accumulation of many green bars and few red bars, the speech signals are judged to be mostly correct. On the other hand, when the onscreen graph shows an accumulation of many red bars and few green bars, the speech signals are judged to be outside the limits necessary for the maintenance of fluent speech.
Who Most Benefits from FluencyNet?
The answer to the question above relies on the level of skill attained in using fluency "targets" in everyday life. Targets are new speech-muscle movements/patterns that replace the distorted contractions and movements that give rise to stuttering. Using the new behaviors or targets generates fluent speech.
Most program graduates who are solidly on target with their new speech skills and talk with few disfluencies may not have a need to use the software. Yet, if individuals are somewhat unstable with their use of fluency skills, FluencyNet may provide the boost needed to move to more stable, consistent use of those speaking skills.
FluencyNet is always there in the event a past participant needs it – whether one month or ten years after attending HCRI.
How Much Is FluencyNet?
As noted earlier, the first six-month subscription is always free for HCRI therapy graduates. The subscription includes a standard microphone and FluencyNet software. If after 6 months, an individual wants to continue with FluencyNet, there are short-, intermediate- and long-term subscriptions available.
Pricing begins at $19.95 for 30 days. Three-month ($54.95), six-month ($99.94), annual ($174.95) and lifetime subscriptions ($425) are available.
Other Valuable Support and Practice Tools for Program Grads
In addition to FluencyNet, the HCRI clinical team stays in touch with program participants after therapy through phone contact and emails. Even years later, HCRI clinicians welcome calls from alumni needing support and guidance.
Other beneficial post-therapy tools includes HCRI's iPhone practice app, therapy program materials, access to fluency practice groups by phone and Zoom, and remote and in-person refresher programs.
To learn more about HCRI's alumni support offerings, click here or reach out at 855-236-7032 or info@stuttering.org.
At HCRI, we are your partner in fluency for life.