The following is the second in a series of chapter excerpts from the insightful and innovative book on stuttering, From Stuttering to Fluent Speech, 6,300 Cases Later: Unlocking Muscle Mischief, written by Ronald. L. Webster, Ph.D. An expert on stuttering, Dr. Webster is a clinical psychologist and president of Hollins Communications Research Institute (HCRI – www.stuttering.org.).
CHAPTER 2 EXCERPT
How Stuttering Became a Universal Problem
There are fascinating unanswered questions about the origin of stuttering. How long ago did stuttering appear in human speech? What factors enabled stuttering to become a universal problem that appears in all language groups? Are there present-day implications about the cause of stuttering that flow from its possible origins? New tools have been developed that may enable us to suggest possible answers to some of these questions.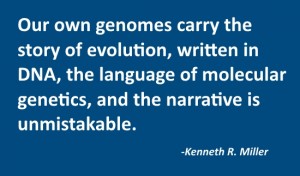 We live in exciting times. Recent advances in genetic analysis have provided opportunities to look into the molecular structure of life itself. Advanced forms of genetic analysis have generated new insights into human evolution that can guide our thinking about the origins of stuttering.
These new forms of genetic analysis deal with mutations in DNA molecules that lie outside the human genome and thus are not available for recombination during the normal course of reproduction. Rates of mutations can be calculated for different types of DNA, and identification can be made of patterns of mutations that are passed from generation to generation. Analysis of DNA sequences can reveal the distinctive genetic variations for different groupings of the human species.
In fact, these new methods provide a virtual time machine that allows us to travel back through the centuries and identify when specific elements of genetic material first appeared in the DNA of our species. Recent analyses of the evolution of the FOXP2 gene, identified as the first gene clearly associated with the human capability to develop language, have indicated that the human variant of this gene was established in the past two hundred thousand years.
Thus, the time of appearance for the FoxP2 gene is consistent with the notion that the rapid expansion of humans to locations beyond East Africa was driven by the presence of increased speech and language abilities (Enard, Przeworski, Fisher, Lal, Weibe, Kitano, et al. 2002).
As we shall see, genetic analyses have indicated that there were two population "bottlenecks" in human evolution that occurred about 135,000 years ago. At the time of the first bottleneck, offspring of a single female became the survivors from whom all of us are descended. Sometime later, when the second bottleneck occurred, offspring of a single male became the survivors from whom we have all evolved.
… [end of excerpt from Chapter 2]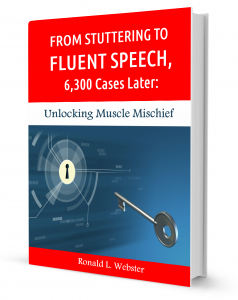 For more information about Dr. Webster's book, From Stuttering to Fluent Speech, 6,300 Cases Later: Unlocking Muscle Mischief, visit Amazon.com.
To learn more about HCRI stuttering therapy, click here: www.stuttering.org.