April 29-30, 2017 – Roanoke, Virginia
The 2017 Hollins Communications Research Institute (HCRI) Alumni Retreat is a prime time for past therapy participations to sharpen fluency skills, spend time with the HCRI team, hear informative presentations, and reconnect with other alumni.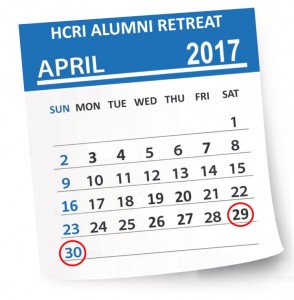 The retreat will take place April 29-30, 2017 in Roanoke, Virginia on the campus of nearby Hollins University. Alumni will come from across the U.S. to attend this two-day event. The retreat weekend features a packed schedule that includes the following.
Saturday: Activities begin at 9 a.m. and include an information session, target review, alumni workshops, transfer activities, and a presentation by Gerald R. McDermott, Ph.D. An HCRI alumnus, Dr. McDermott is Chair of Divinity at Beeson Divinity School and author of the book, Famous Stutterers. In the evening, HCRI will host a buffet dinner for attendees and their guests.
Sunday: Activities feature more alumni workshops and presentations, along with "round robin" practice opportunities. The weekend will wrap up at 1 p.m.
Registration and Conference Fees:
The registration fee for alumni to attend the weekend event is $285. The fee for participants who accompany alumni is $160 per guest. There is no charge for children ages 10 and under who are accompanying alumni over the weekend.
For more information and to sign up, click here: Register Today!
For questions, contact Linda Booth or Bonnie Witt at 540-265-5650, (540) 265-5650 or info@stuttering.org.