Written by Courtney Stackhouse
The science-based stuttering therapy program at Hollins Communications Research Institute (HCRI) focuses explicitly on correcting muscle distortions and teaching new speaking skills that participants utilize to maintain fluency for a lifetime. As a behavioral therapy designed to help people achieve fluency, HCRI's 12-day program does not include a psychological component.
Yet, those who participate gain self-confidence that comes from using their new skills and speaking fluently at will. For many clients, this newfound confidence is something they never experienced before attending HCRI stuttering therapy.
One such person is 26-year-old Byron Jones. Before Byron attended HCRI's program, he had difficulty talking in front of strangers and friends alike. He tried a variety of therapies that proved to be unsuccessful. He practiced with numerous fluency teachers over the years and even tried an auditory-feedback device. Any positive results only lasted for a short amount of time. Byron had difficulty keeping the motivation to continue the work he was taught by his therapy providers because he saw no improvement.
The Decision to Try HCRI 
When Byron came across HCRI's website at www.stuttering.org, he was hesitant to believe the Institute's therapy would work for him. Before he completely gave up hope to ever speak fluently, he decided to consider HCRI. With the help of his mom, he carefully researched the Institute's work and treatment approach.
He reviewed the information on HCRI's website and watched pre- and post-therapy videos of past participants. These videos illustrate a typical client's speech on Day 1 versus Day 12 of the program. The tremendous difference before and after therapy is what drove Byron to submit his application to HCRI's stuttering therapy program.
Systematic Therapy Approach
He attended HCRI's therapy program at the end of 2015 with seven other individuals. He spent twelve uninterrupted and challenging days learning techniques to help him control his distorted muscle movements. He received one-on-one instruction and guidance from HCRI's specially trained clinicians and used the Institute's proprietary technology during the therapy process.
First, Byron was taught how to control the muscle tension in his articulators, which include the tongue, lips, and jaw. He was then instructed how to focus on his breathing so that he would have a good supply of air for his speech. Having distorted breathing patterns makes it even harder for people with a history of stuttering to get their speech out.
Lastly, he was taught how to monitor and feel his vocal folds and keep them from slamming shut. People who are considered fluent speakers are able to control their muscles naturally, but those who deal with stuttering have to deliberately make their muscle groups cooperate. Byron was taught all of the necessary tasks to problem solve when he was having difficulty, along with how to continue working on his fluency skills for the rest of his life.
Achieving Fluency in 12 Days
Byron began his HCRI program by speaking with a disfluency level of over eight percent. After receiving treatment, his speech had improved to be less than one percent disfluency. Those who are considered to be fluent speakers have up to three percent disfluency.
Byron is pleased with his results and is quick to point out that therapy is not a cure. "The fluency skills I learned are something that I have to continue practicing daily," he said. "Also, calling my HCRI clinician every one-to-two weeks helps keep me on track. Even a ten minute phone conversation can make a big difference."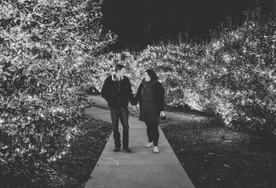 After finishing his HCRI stuttering therapy program, Byron gained significant confidence from having the ability to speak fluently.
With his new speaking abilities, he was ready to take a huge life step with his girlfriend, Betsy.
Putting his Fluency to the Test
"We had been dating for fifteen months and have been friends for five years. We both know what we want in life and the timing was right. When you find someone you love and care for, it's time to take the next step," he said.
Christmas of 2016 was quickly approaching and Byron decided the time had come to ask Betsy to marry him. He called and spoke with his HCRI clinician before he was planning to propose to get some practice and tips on how to ask the anticipated question.
After tirelessly practicing what he wanted to say, on December 20, 2016 Byron asked Betsy to marry him. He hired a photographer to capture the special moment when he got down on his knee and confidently asked Betsy to be his wife. Betsy said yes.
"I know that this question is nerve-racking for everyone, especially for people with a history of stuttering. It was comforting to know that I had my fluent speech to make it less stressful," Byron said. "I just practiced what I wanted to say, and my fiancé told me that I got through what I was saying without stuttering."
Byron says that Betsy is very supportive of him and his journey to fluent speech. "She loves me the way I am and doesn't care if I stutter. Yet, she helps me stay on track with my fluency skills because she knows it's what I want."
————————————
About HCRI
HCRI was founded by Ronald L Webster, Ph.D. in 1972 to investigate stuttering through scientific discovery and treatment innovation. Virginia-based HCRI, a 501 (c) (3) charitable organization, has become an international leader in stuttering research and the development of scientifically derived therapy approaches.
Clients come from all walks of life and include broadcaster John Stossel; Annie Glenn, wife of Senator and Astronaut John Glenn; as well as athletes, teachers, engineers, musicians, students, doctors, military personnel, business professionals, police officers, actors, a supreme court nominee, and even royalty.
HCRI is located at 7851 Enon Drive, Roanoke, Va. 24019. For more information, visit www.stuttering.org or contact HCRI at 855-236-7032.