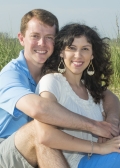 From Stuttering to Fluency to Falling in Love
Nonprofit Hollins Communications Research Institute (www.stuttering.org ) has helped thousands of people who stutter acquire life-long fluency skills. Yet, the ability to overcome stuttering was only one of the positive outcomes for HCRI therapy participants Scott Morris of Roanoke, Virginia and Natalie Baren of Mountain Brook, Alabama.
In addition to the ability to speak fluently for the first time in their lives, participation in HCRI stuttering therapy enabled them to meet one another. They fell in love and are now engaged to be married.
"We are accustomed to seeing successful results from HCRI stuttering treatment. Yet, Scott and Natalie's story is certainly extraordinary. Finding fluency and love; it doesn't get any better than that. All of us at HCRI are thrilled for them," said HCRI President Dr. Ron Webster.
Morris and Baren's experience with stuttering and journey to fluency took different paths. For Morris, stuttering served as a "constant obstacle." Throughout school and college, he was actively involved in student government, clubs, sports and volunteer organizations. Each time he had to speak in front of people, which was frequently, Morris spent an inordinate number of hours preparing to minimize his stuttering. The speech therapy he had at an early age did little to help.
The turning point for Morris came when he applied to medical school, which involved face-to-face interviews with three prestigious medical schools. His grades and test scores were exceptional. Yet, he was concerned about his stuttering and whether it could compromise his chances of acceptance. While, he was accepted by two of the three medical schools, Morris knew that he must address his stuttering or it would hold him back in the future.
He decided to attend the 12-day stuttering therapy program at HCRI. While therapy was hard work, it transformed his speech. To help stabilize Morris's newly acquired fluency skills, HCRI provided post-therapy clinician support, fluency tools, and access to practice groups. It was through practice and attending an HCRI event that Morris met Baren.
"Ever since HCRI therapy, I've noticed continued, appreciable improvement in my speech. Now I confidently make presentations in front of groups. In addition, I don't stutter when talking with physicians, residents or my patients. It feels great and is so important," Morris said.
For Baren, stuttering was more of an ongoing annoyance while growing up. Though her stuttering was mild, she grew more concerned about it as she got older. As a freshman in college, Baren took an introductory course on communicative disorders that included stuttering. That course helped define her future career. She was so interested in the topic of speech disorders that she decided to become a speech therapist.
Along with getting her degree, she enrolled in an HCRI stuttering therapy program  to address her own speech condition. "I wanted to be proactive about getting help for my stuttering and serve as a role model. I chose HCRI's therapy program because the Institute specializes in stuttering and treats it as a physical condition." Baren explained. "The behavioral therapy met my needs and included a range of fluency tools and support once I returned home."
In fact, HCRI's post-therapy support provided benefits beyond Baren's expectations. After she and Morris met, they became fluency-practice partners – and that led to their eventual engagement. They plan to marry in 2014 when Morris graduates from medical school. Baren accomplished her career objective and is now a speech therapist for a large school system.
"My advice to anyone who stutters is to seek treatment that works for you. Follow your career interests and passions. Don't let stuttering ever hold you back," Baren said.
About HCRI
Hollins Communications Research Institute was founded by Dr. Ron Webster in 1972 to investigate stuttering through scientific discovery and treatment innovation. Roanoke, Virginia-based HCRI, a 501 (c) (3) charitable organization, has become an international leader in stuttering research and the development of innovative, scientifically based therapy approaches.
HCRI's intensive, 12-day behavioral treatment involves teaching people how to replace faulty speech muscle movements that cause stuttering with new muscle behaviors that generate fluent speech.  HCRI clinicians have treated more than 6,100 people from across the U.S. and 47 other countries. Clients come from all walks of life and include broadcaster John Stossel of Fox News; Annie Glenn, wife of Senator and Astronaut John Glenn; as well as athletes, teachers, engineers, students, doctors, military personnel, a supreme court nominee, business professionals, police officers, actors, and even royalty.
HCRI is located at 7851 Enon Drive, Roanoke, Va. 24019. For more information, visit www.stuttering.org or contact HCRI at 855-236-7032 or info@stuttering.org .