Attorney and mountain climber Leigh P. Bennett of Edmonds, Washington has stuttered since he uttered his first sentence. Yet, he considers himself lucky to have dealt with the challenge of stuttering at such a young age.
During school and into adult life, Leigh regularly faced difficult situations and frustration because of the way he talked. Though, he believes his speech condition served as the impetus to develop a can-do attitude, courage, and emotional strength early in life. These traits have stayed with him through the years, enabling him to thrive professionally and personally.
"My stuttering was ever-present for as long as I can remember. While it got in the way whenever I spoke, I was determined to stay positive and become stronger because of it," Leigh said.
Stuttering affects three million people in the U.S. and 66 million worldwide, according to the National Institute on Deafness and Other Communication Disorders. Stuttering ranges in severity and often hampers educational and career aspirations, inhibits social growth, and serves as a barrier to people reaching their full potential in life.
From Stuttering to Fluency
Leigh's journey to fluency included a gamut of unsuccessful treatment attempts that included speech therapy in elementary school, unproductive sessions with a psychologist, and visits to a speech clinic once every two weeks during high school. None of these efforts produced results.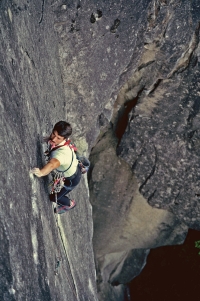 After high school, Leigh went to college and also became an avid mountain climber and windsurfer. His outdoor activities required significant mental focus, training, self-control, and self-reliance. He learned how to manage his fear and maintain a sense of calm, as he scaled summits, traversed rough waters, and achieved each new goal he set for himself.
At the time, he didn't consider that these carefully honed skills would help him on the path to fluency.
Upon graduation, Leigh traveled the world and grew even more self-assured. He also ran his own mountaineering school. Yet, he knew he needed to bring his stuttering under control to pursue the next chapter in his life.
Then, he learned about the unique behavioral stuttering therapy provided by Hollins Communications Research Institute (HCRI – www.stuttering.org) in Roanoke, Virginia. He was drawn to HCRI's physically based approach, scientifically derived methodology and intensity of therapy. The treatment strategy made sense to him and he enrolled in the stuttering therapy program.
HCRI Therapy Participation
At HCRI, Leigh worked one-on-one with specially trained clinicians and systematically learned how to replace faulty muscle behaviors that cause stuttering with new speech motor skills that enable fluency. His can-do attitude, strong self-reliance, and ability to adapt – which were skills he cultivated through his outdoor sports and independent travels – served him well in achieving success during therapy.
According to HCRI Founder and President Dr. Ron Webster, "Our physically based therapy takes hard work, focus and total commitment to the process. Clients who give 110 percent leave with the knowledge and techniques they need to take control of their stuttering and remain fluent for life."
Research shows that 93 percent of HCRI therapy program participants achieve fluency by the end of treatment. Follow-up studies reveal 75 percent retain fluency for the long term. "Our results are in stark contrast to other speech therapy approaches that work in only 25 percent of cases," Webster noted.
New Opportunities through Fluency
After attending HCRI, Leigh was able to manage his stuttering for the first time in his life. "HCRI treatment provided me with the tools I needed to speak fluently," Leigh explained. "When I would start stuttering in stressful situations, I knew just what I needed to do to regulate my speech."
With his newly acquired fluency, Leigh decided to go to law school, become an attorney in Edmonds, and follow in his father's respected footsteps. Today, Leigh has a busy law practice with his brother, Peter W. Bennett, and is carrying on his father's legacy at his Bennett and Bennett law firm. He specializes in estate planning, elder law, trusts, Medicaid planning, real estate law, and other related legal services. Leigh is a member of the Washington State Bar Association, board member of the Hubbard Family Foundation, member of the Everett Mountaineers, and a ski instructor.
He believes that success requires an individual to proactively take control of his or her life and "make things happen." Leigh attributes his ability to overcome stuttering to having the right attitude, learning from his experiences, and getting the right stuttering treatment.
About HCRI
Hollins Communications Research Institute (HCRI) was founded by Ronald L. Webster, Ph.D. in 1972 to investigate stuttering through scientific discovery and treatment innovation. Virginia-based HCRI, a 501 (c) (3) charitable organization, has become an international leader in stuttering research and the development of innovative, scientifically based therapy approaches. HCRI clinicians have treated more than 6,500 individuals from across the U.S. and 50 countries. The center is located at 7851 Enon Drive, Roanoke, Va. 24019. For more information, visit www.stuttering.org or contact HCRI at (540) 265-5650 (toll-free) or admin@stuttering.org.
About Bennett and Bennett
The Bennett and Bennett partnership was founded in 1988 by brothers Leigh P. Bennett and Peter W. Bennett in Edmonds, Washington, The goal of the law firm is to guide clients successfully through the often complex processes of estate planning, probate, trusts, elder law, real estate law, and related legal matters – and to make the process educational, practical, and cost effective. Bennett and Bennett is located at 400 Dayton, Suite A, Edmonds, Wash. 98020. For more information, visit www.edmondslaw.com, call 425-776-0139, or send an email to bb@edmondslaw.com.