Stuttering is one of humankind's most misunderstood and mistreated disorders.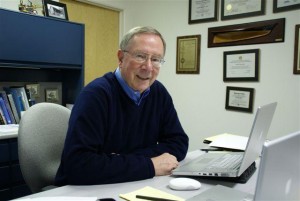 In this primer on stuttering, Ronald L. Webster, Ph.D. provides an overview on the prevalence and characteristics of stuttering, along with key genetic findings and treatment options. Dr. Webster is president and founder of Hollins Communication Research Institute (HCRI). He also is a clinical psychologist, author, and professor emeritus of psychology. HCRI is an internationally recognized center for stuttering research and treatment innovation.
When Did Stuttering First Appear in Humans?
Stuttering is unique to humans and has a long, long history in human experience. Research and publications suggest that stuttering became part of the human condition as long as 60,000 years ago and evolved along with our species, homo sapiens.
Ancient Egyptian clay tablets from 4,000 years B.C. referenced stuttering and labeled it "nit-nit." Chinese poetry noted stuttering over 2,500 years ago B.C. The Bible and Koran make reference to stuttering in a number of instances. In particular, the Bible suggests that Moses may have been a stutterer and, for that reason, asked his brother Aaron to read the Ten Commandments after he came down from the mountain.
Incidence of Stuttering
Stuttering, also known as stammering, is a global disorder, occurring in one-percent of the population. Thus, in the U.S., there are approximately three million persons who stutter. Globally, stutterers number about 70 million. Stuttering affects four times as many males as females. The type and severity of stuttering varies by individual – and the condition may change in intensity, based on the day and speaking situation.
Characteristics and Onset of Stuttering
Individuals who stutter experience involuntary disruptions in their flow of speech, which impacts their ability to speak fluently and effectively communicate in everyday situations.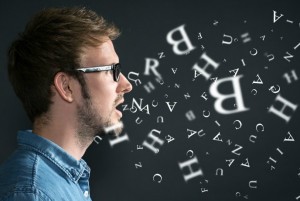 Stuttering is characterized by interruptions in the flow of speech that take the form of repetitions of sounds, syllables and words (as with "my-my-my-my house"); prolonging the initial sounds of syllables (like "n-n-n-no"); and voice blockage when no sound is produced. These speech characteristics may be accompanied by overt physical behaviors, such as rapid eye blinks, facial twitches or tremors of the lips.
The onset of stuttering typically occurs in 4 to 5 percent of children. It happens when children are between two and four years of age, as speech and language skills are developing. While about 69% of children will outgrow the problem by age 12, their stuttering can negatively impact friendships, daily interactions, and school performance.
If childhood stuttering persists into adolescence, it is unlikely that spontaneous remission will occur as the person ages. Life-long stuttering can dramatically impede social, educational and economic growth, as well as limit the realization of an individual's personal potential. Stutterers are estimated to earn about $5,000 to $8,000 per year less than their peers who do not stutter.
More on the cost of stuttering >>
Role of Genetics in Stuttering
Stuttering is well known to occur within families. Around 70% of persons who stutter can identify another family member or members who stutter.  For men who have ever stuttered, 9% of their daughters and 22% of their sons likely will be stutterers. For women who have ever stuttered, 17% of their daughters and 36% of their sons likely will be identified as stutterers. Thus, the evidence suggests that women pass on genetic material related to stuttering more than men, even though they are found to stutter less themselves.
In a breakthrough study by the National Institute on Deafness and Other Communication Disorders (NIDCD), three mutant genes linked to stuttering were identified, and the identification of a fourth mutant gene followed. HCRI collaborated with the NIDCD on this genetic research, as well as with follow-up studies.
HCRI's work on the genetics of stuttering >>
At the present time, one or more of the mutant genes have been found in approximately 20% of cases showing stuttering. Further research is likely to identify additional mutant genes involved in the causation of stuttering. The key point is that clear evidence of genetic involvement with stuttering support the basic thesis that mechanisms internal to the biological function of humans are causal in stuttering.
In addition to genetic factors, evidence is developing that both children and adults who stutter display anomalies of brain structure and function in areas involved in the production of speech.
Treatment Approaches
There is no cure for stuttering; yet, there are different therapies to help lessen or remedy the condition. Each of the treatments has varying degrees of success and individuals should evaluate treatment options to determine which approaches are best suited to their needs. Therapy options include the following.
Traditional speech therapy that involves regularly scheduled sessions with a provider to help reduce disfluency and stress. This type of therapy tends to be open-ended and can last for several years. Fluency outcomes are mildly effective.
Counseling-related therapies that focus on helping clients accept their stuttering and decrease communication anxiety. While those treated may benefit from counseling as a means to better accept the fact they stutter, few become fluent.
Self-help groups provide a support system for individuals who stutter and help them feel better about their speech. Yet, as with counseling-related approaches, very few individuals achieve fluency.
Science-based behavioral therapy, invented by HCRI research scientists, has consistently proven to help individuals achieve and sustain fluent speech. This 12-day immersion treatment teaches persons how to replace faulty speech muscles that give rise to stuttering and replace them with new muscle behaviors that generate fluent speech. Research demonstrates that 93% of therapy participants achieve fluency after 12 days. 75% maintain fluent speech when evaluated 2 years after therapy.
More about HCRI stuttering Therapy >>
About HCRI

HCRI was founded by Ronald L Webster, Ph.D. in 1972 to investigate stuttering through scientific discovery and treatment innovation. Virginia-based HCRI, a 501 (c) (3) nonprofit organization, has become an international leader in stuttering research and the development of scientifically derived therapy approaches.
More than 7,000 individuals from across the U.S. and 50 countries have come to HCRI for stuttering treatment. Clients represent all walks of life and include teachers, business professionals, athletes, broadcasters, engineers, musicians, students, doctors, military personnel, police officers, actors, a Supreme Court nominee, and even royalty.
HCRI is located at 7851 Enon Drive, Roanoke, Va. 24019. For more information, visit stuttering.org or contact HCRI at 855-236-7032 or info@stuttering.org.