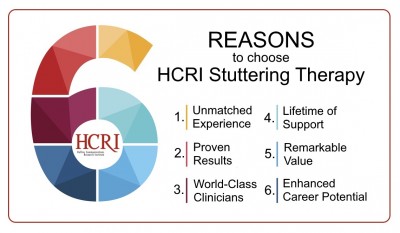 If you are looking for an effective stuttering therapy where you will acquire lifelong skills to speak confidently and fluently, we invite you to learn more about Hollins Communications Research Institute (HCRI).
Here are six reasons to choose HCRI's 12-day stuttering therapy program.
1. UNMATCHED EXPERIENCE
We've treated thousands who stutter with our award-winning, science-based therapy. We know precisely what works and what doesn't when it comes to helping you achieve lasting fluency.
2. PROVEN RESULTS
HCRI therapy has proven, documented fluency outcomes. That means you know your probability of success before therapy: 93% achieve fluent speech in 12 days and 75% retain fluency after two years.
3. WORLD-CLASS CLINICIANS
Our clinicians are the only speech professionals in the world who complete a rigorous, 500-hour training before administering HCRI therapy. That means you benefit from the highest standards of clinical excellence to maximize your fluency results.
4. LIFETIME OF SUPPORT
We are your partner in fluency for life. After your therapy, you benefit from a lifetime of personalized clinical support and practice tools to help you maintain your fluency.
5. REMARKABLE VALUE
At HCRI, you receive 100 hours of therapy for a cost that is about half that of traditional speech therapies. In addition, your path to fluency takes just 12 days.
6. ENHANCED CAREER POTENTIAL
After participating in HCRI therapy, the majority of clients say they were able to advance their careers and earnings.
——-
More than 6,500 people from across the U.S. and 50 countries have come to HCRI for stuttering treatment. Clients represent all walks of life and include teachers, business professionals, athletes, broadcasters, engineers, musicians, students, doctors, military personnel, police officers, actors, a Supreme Court nominee, and even royalty.  
Founded by Ronald L Webster, Ph.D. in 1972, Virginia-based HCRI is an international leader in stuttering research and the development of scientifically derived therapy approaches.
For information about the one-of-a-kind, behavioral therapy offered at HCRI, visit www.stuttering.org and/or contact us by email or phone at (540) 265-5650.