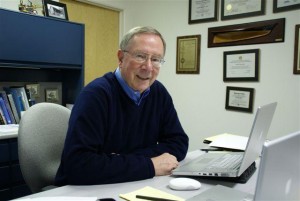 This article by Ronald L. Webster, Ph.D., president of Hollins Communications Research Institute (HCRI), discusses why individuals who stutter turn to HCRI to treat their speech condition and achieve fluency.
Most of our clients are weary of stuttering when they first reach out to HCRI for help. They are tired of the frustrations, the uncertainties about the impact their stuttering has on others – and for many, the persistent lack of success they have experienced with previous therapies. They are just normal people who sometimes have trouble speaking. And, by the completion of our 12-day stuttering therapy, they became normal people who can speak fluently and spontaneously.
HCRI offers a better than 90% chance that new clients will achieve fluent speech by the end of our 12-day program. And, at one- and two-years post HCRI, 70% and 75% respectively are retaining normal fluency. Just as importantly, they experience normal reactions to everyday speaking situations.
Focus on Therapy Excellence
At our Virginia-based center, we developed and administer our stuttering treatment program called Hollins Fluency System III: High Definition Speech Reconstruction for Stuttering. We have learned that for a person to be successful in learning and locking in the behavioral details that actively generate fluent speech, it takes a close-up and personal form of instruction. It also takes an intensive therapy schedule to accomplish the training goals for our program.
We constantly study our program structure, the instruction sets, the electronic components of our system, and the clinician instructions and interactions with our clients. If we find weaknesses in performance within any component of our system, we isolate it, study it, and make corrections. When we discover opportunities that elevate the therapy experience and outcomes, we make enhancements. Our focus is to continually strengthen our therapy for the benefit of the clients we serve.
Our program is validated by the positive results obtained with literally thousands of persons who stutter. We believe that our therapy offers each person who demonstrates developmental stuttering a solid opportunity to become a fluent speaker. After all, we know from direct experience that most individuals who come to HCRI have the motivation and willingness to learn that make them successful within and beyond our program.
Comprehensive Post-Therapy Support
HCRI provides an excellent, multi-faceted package of post-therapy support for each participant. While most program graduates do not require additional help, some benefit from taking advantage of our offerings. For example, there are clinical contacts offered on an as needed basis. We also offer support group participation for persons who benefit from practicing their fluency skills with each other.
We provide each therapy graduate with FluencyNet, a computer-based speech monitoring system for use on their home computer. FluencyNet helps habituate fluency skills taught during therapy by providing users with real-time measurements of speech utterances and immediate, accurate feedback that guides client practice of correct responses. HCRI's Voice Monitor app for the iPhone puts a "clinician in your pocket" that can be used by clients anywhere to evaluate and practice their fluency skills.
Unmatched Quality and Sophistication

We are not aware of another treatment for stuttering, anywhere in the world, that operates at the levels demonstrated by HCRI's program. Our clinicians work each year with more persons who stutter than most clinicians are likely to see in a professional lifetime.
For a direct path to improving both your fluency and the quality of your personal life, HCRI provides a comprehensive and successful treatment for stuttering that is:
(1) Delivered within a fixed time frame;
(2) Provided with a known cost; and,
(3) Presented with a known probability of both short-term and long-term positive results.
We provide a unique, comprehensive system for bringing robust, fluent speech to individuals who stutter. We have extensive data that validates the effectiveness of our treatment for stuttering. We can say, with critical accuracy, that we have learned a few important facts about stuttering – and we have assembled them in a solid manner to help people improve the realization of their personal potential through fluent speech.
HCRI Therapy Impact 
The work we do each and every day is designed to achieve the ultimate objective of improving lives through fluency. A recent client survey revealed the following.
96% said our therapy program was worthwhile to them.
79% said their personal happiness and satisfaction increased post therapy.
69% said they improved their social life and relationships after their HCRI experience.
84% reported increased confidence after participating in HCRI stuttering therapy.
78% said HCRI therapy participation helped enhance their quality of life.
Your Choice, Your Future  
If you believe that you can find a more objective and effective treatment for your stuttering, then we recommend you take it. In fact, we encourage individuals to compare therapy programs side-by-side. If you recognize that HCRI offers an important set of stuttering therapy advantages, we invite you to come to the institute, do the work, and generate a better quality to your life through fluency.
We always welcome inquiries and questions. We talk with persons who stutter every day and encourage you to reach out at (540) 265-5650 or info@stuttering.org.
If you would like to submit an application for our therapy program, please click here: Apply to HCRI.
HCRI is located at 7851 Enon Drive in Roanoke, Virginia. All therapy is adminstered in Roanoke at our national center.