Following are insights provided by stuttering therapy clients who completed their 12-day intensive treatment at Hollins Communications Research Institute (HCRI – stuttering.org) in Roanoke, Virginia.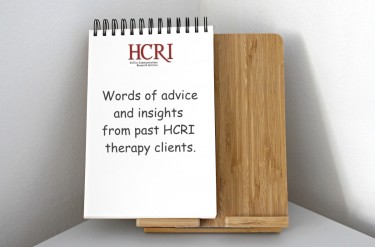 At the end of their HCRI therapy program, clients were asked to write a few words of advice for individuals who are preparing to come to the national stuttering therapy center. Here's what they shared.
Advice from Past Clients
"Leave the past behind. We all have a new life in front of us. We all have the ability to move forward. This is going to change your life forever. No one is worth it more than you. Believe in the program and in yourself, this will lead to a lifetime of success."
"We may not choose to stutter but we choose to be fluent. Realize the choice and invest in yourself."
"Take these 12 days to disconnect from the rest of your life and focus on the one aspect that has troubled you for so long. It will take 100% of your effort but… you are one step closer to commanding your fluency."
"We didn't say it was going to be easy. We said it's going to be worth it."
"You have already made the effort to change your life by coming [to HCRI], that right there shows so much in yourself. Don't give up you can change your life."
"The journey to fluency may not be easy but there is light at the end of the tunnel. That light is called fluency!"
"Focus on where you are now going, the possibilities ahead of you, not where you have been."
"This can be a turning point in your life. For me I know it will be because I will practice as much as the clinicians tell me. If you make the same wise choice, you will be limitless."
"This program works, I know. I was once where you are. I beat stuttering and here's what it takes: Practice – Patience – Perseverance – Payoff!"
About HCRI Stuttering Therapy
HCRI's program is a science-based, immersion therapy that teaches individuals  how to control stuttering by replacing faulty muscle movements that give rise to stuttering with new muscle behaviors that generate fluent speech.
For 12 days, therapy participants work in a small group setting and are guided by specially trained clinicians who teach skills that help individuals overcome stuttering and speak fluently. HCRI's therapy technology is used in the treatment process to help individuals acquire fluency with greater ease and precision. Therapy takes place in the clinical environment, as well as in real-world settings.
By the end of 12 days, research demonstrates that 93 percent of participants achieve fluent speech. Follow-up studies reveal that 70 to 75 percent of clients maintain their fluency skills when evaluated one and two years post therapy.
Watch before-and-after therapy videos >>
To learn more about HCRI's  stuttering therapy approach, send an email or call us at (540) 265-5650.  
To begin your journey to fluency with HCRI, complete a therapy application.  Then, a member of HCRI's team will reach out to discuss next steps and schedule your therapy session.