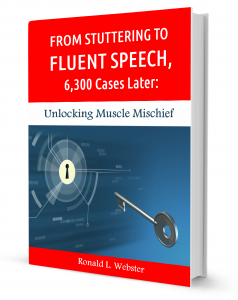 Stuttering is one of the most misunderstood and mistreated of human disorders. In his book, From Stuttering to Fluent Speech, 6,300 Cases Later: Unlocking Muscle Mischief, stuttering expert Ronald L. Webster, Ph.D. dispels the myths that surround the condition and takes readers on a captivating journey into stuttering from a scientific perspective. 
The following continues the series of chapter excerpts from this compelling book on stuttering.
CHAPTER 5 EXCERPT
Stuttering and the Arrow of Time
The problem with stuttering is that stuttering is not the problem. This is a paradoxical statement, yet I believe it is accurate. This chapter will expand the definition of what we now refer to as stuttering by showing that additional levels of observation are required in order to better understand the events involved in this problem.
Earlier I made the point that stuttering is inferred when, during speech initiation, particular observed speech events occur. However, as I indicated in the previous chapter, the simple identification of these behaviors and their cognitive/emotional consequences provides an incomplete and not particularly practical view of the problem.
Figure 4.1, in the previous chapter, presents a schematic illustration of the elements that appear in the legacy definition of stuttering. Note that in this model, the behavioral manifestations of disfluent speech are fundamentally important. Their presence gives rise to the accessory behaviors arrayed immediately below the disfluent speech events.
In addition, the disfluent speech activities and the accessory behaviors, together, are seen to generate activity within the cognitive/emotional domain as others react to the speech of the individual involved. In addition, the individual processes his or her experiences and establishes their meaning in his or her own manner. In my opinion, something is missing in this equation.
The legacy model recognizes specific behavioral events that are identified as the elements that permit the inference of stuttering. Note, however, that the behaviors identified in the model are behaviors by type; they are not stuttering. I believe that there is a critical need to sustain our focus on behavioral details because that, frankly, is where the action occurs…
… [end of excerpt from Chapter 5]
For more information about From Stuttering to Fluent Speech, 6,300 Cases Later: Unlocking Muscle Mischief, visit Amazon.com. To learn more about HCRI stuttering therapy, click here: www.stuttering.org.