Hollins Communications Research Institute (HCRI), a leader in stuttering research and treatment innovation, announces new remote support services during the COVID-19 pandemic to support the needs of the institute's therapy alumni.
During this time when individuals are concerned about their health and safety, HCRI responded quickly and innovatively to promote the well-being of HCRI alumni, clients and staff.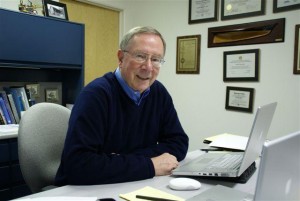 According to HCRI President Ronald L. Webster, Ph.D., the nonprofit institute has stringently implemented guidelines set forth by the Virginia Department of Health and the Centers for Disease Control. In addition, the HCRI clinical team is now working remotely and continuing to serve the needs of HCRI therapy participants.
Dr. Webster added. "To extend our services and support during this most unusual time in the world, the HCRI team has rolled out new online services for alumni who are practicing social distancing or who are quarantined."
ONLINE SUPPORT SERVICES
FaceTime Sessions
These sessions are tailored to each individual's needs. Sessions may be scheduled for 30 minutes or an hour. Contact Holly Humphreys at 855-236-7032 or holly@stuttering.org to schedule your session.
2-Day Reset
This program allows individuals to fine-tune targets, while working individually with HCRI clinicians over a two-day period. Time will be spent reviewing and practicing targets, as well as participating in individually tailored transfer activities. Contact Holly Humphreys at 540-265-5659 or holly@stuttering.org for registration information.
Remote Refreshers
HCRI is continuing to offer its Remote Refresher programs for HCRI alumni. The Remote Refresher is designed to help persons recapture the ability to control stuttering, stay on target, and speak fluently in all types of situations. Participants receive an in-depth review of the skills taught during HCRI's 12-day stuttering therapy. Online sessions take place over a one-month period. Please email Candy Smith at candy@stuttering.org for information about this program.
FluencyNet
HCRI's online practice software, FluencyNet, is now available to former therapy participants at a 50% savings. Pricing is based on the length of the subscription. For information, contact Linda Booth at 855-236-7032 or info@stuttering.org.
Complimentary Weekly Check-ins
As always, the HCRI clinical staff remains available to provide free weekly support to anyone who attended HCRI stuttering therapy in the past. Individuals are encouraged to send an email to schedule a check-in call with a clinician.
HCRI CLINICIANS
HCRI clinicians are compassionate and skilled in the delivery of HCRI's science-based stuttering therapy. While working remotely, HCRI's clinical team continues to provide the highest standards of clinical excellence inherent to HCRI's therapy delivery.
Dr. Webster added, "We remain committed to serving the needs of individuals who stutter, as well as continuing to work toward meeting the growing demand for online services while this crisis persists."
ABOUT HCRI
HCRI was founded by Ronald L Webster, Ph.D. in 1972 to investigate stuttering through scientific discovery and treatment innovation. Virginia-based HCRI, a 501 (c) (3) nonprofit organization, has become an international leader in stuttering research and the development of scientifically derived therapy approaches.
More than 6,500 people from across the U.S. and 50 countries have come to HCRI for the center's 12-day stuttering therapy. Clients come from all walks of life and include teachers, business professionals, athletes, broadcasters, engineers, musicians, students, doctors, military personnel, police officers, actors, a Supreme Court nominee, and even royalty.
HCRI is located at 7851 Enon Drive, Roanoke, Va. 24019. For more information, visit www.stuttering.org or contact HCRI at 855-236-7032.