At Hollins Communications Research Institute (HCRI), we always welcome calls and emails from individuals who stutter and look forward to answering questions about our 12-day stuttering therapy program. To help those who want to learn more about our treatment, we also offer extensive information online at stuttering.org and provide helpful information packets on request.
Our team has compiled a list of HCRI Frequently Asked Questions that we include in our nonprofit center's materials and on our website. Recently, HCRI President Dr. Ron Webster was asked some additional questions we felt were important to share. Following are those questions and Dr. Webster's responses.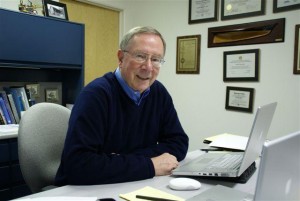 Question: 
Is your proprietary stuttering therapy program offered only in Roanoke, Virginia?
Dr. Webster's Answer: 
Yes, our 12-day treatment program is administered only in Roanoke. Why? HCRI's facility is designed for the specific purpose of administering stuttering therapy, researching the condition, and developing treatment innovations. Our building is equipped with customized electronics and therapy technology that facilitate the learning of lasting fluency skills. In addition, our treatment tools and protocols enable our team to constantly monitor therapy procedures to always deliver the highest standards of clinical excellence.
In addition to administering our therapy program, HCRI's expert clinicians continuously evaluate the details and effectiveness of our methods. Constant scrutiny of our work is a necessary component of keeping quality standards where we think they have to be to deliver powerful, effective stuttering therapy. At HCRI, you can count on benefiting from our focused approach to your therapy. You can be assured that the quality of your experience at HCRI will be worthwhile for you.
Question:
Is your HCRI stuttering therapy available on the web?
Dr. Webster's Answer:
Could we conduct our program via the internet? Yes, but we don't – and for good reason. Our work on distance therapy has shown that, at the present time, we cannot meet the same standards of excellence that are met when clients come to HCRI. There are too many variables at work that compromise the quality of fluency training.
If you wish to receive our highest standards of therapy delivery, you will travel to Roanoke. We will not offer convenience in place of quality. In addition, when you attend therapy here, you will receive careful, direct attention from our clinicians that guides the quality of your training in ways that are unique to your learning style. You will benefit maximally from the powerful experience of being here.
Our therapy program involves 100 hours of instruction and guided practice of fluency skills, skill sequences, and error recognition and correction. Your speech is complex. It takes time and precision learning to change the detailed way in which you understand your speech, alter small details of speech-muscle activity, and use fluency skills in your daily life. One hundred hours is the minimum time that we have found to be effective for most of our clients. There appears to be no good shortcuts to this proposition.
Question:
Is HCRI stuttering therapy a good value for me?
Dr. Webster's Answer:
If you look at the cost of therapy, which totals $4,250, there is no argument that a significant amount of money is involved. However, if you look at the cost related to the number of therapy hours you receive with HCRI, then our therapy cost comes in at $42.50 per hour.
In contrast, many therapists charge $90 per clinical hour (a 50-minute period). If it takes you 100 clinical hours of such treatment, you will need to pay roughly $9,000. And, you likely never received upfront information about the success rates of such therapies.
When you consider HCRI's fluency outcomes, then our program is likely to be more effective and cost less than most therapies available today.  An old physician friend once said to me, "The most expensive medicine is that which does not work." You might wish to think about that idea as you consider selecting a therapy for yourself.
HCRI stuttering therapy has a record of producing excellent fluency results for most of our clients. Research shows that 93 percent achieve fluent speech by the end of their 12-day program. Seventy to 75 percent of clients maintain fluency when evaluated one and two years post therapy.
As one of our clients said, "In fact, the HCRI stuttering therapy program is not expensive – in my view, it is priceless!" We think that says it all.
Question:
Does HCRI offer any follow-up assistance in the event I need it?
Dr. Webster's Answer:
Yes, our post-therapy support is comprehensive. Yet, most of our clients report that they do not need continuing follow-up treatment to retain their fluency. The reason for this is that HCRI stuttering therapy relies on new ways to train speech-motor skills that use the correct application of fundamental principles of learning. Our research results demonstrate that our clients learn robust fluency skills – not fragile fluency skills that breakdown soon after therapy is completed.
For those who want additional assistance after their therapy program, we provide direct clinical instruction via telephone or computer video conferencing. Often, a quick clinical insight from one of our clinicians puts a client back on track.
Every client receives a take-home package that includes HCRI's fluency-practice software, therapy manuals, and the use of our proprietary app that help keep fluency skills on track. We host refresher programs and an annual retreat for our clients.  In addition, alumni-led practice groups via phone are available year round. At HCRI, we are your partner in fluency for life.
If you have additionalquestions about our nonprofit center or HCRI's science-based approach to stuttering therapy, please contact us at 855-236-7032 or info@stuttering.org.
Click here for more – Stuttering Therapy Q&A >>