National Business Leader Sander A. Flaum Donates $100,000 to HCRI to Help Individuals Attend Life-Changing Stuttering Therapy
Hollins Communications Research Institute (HCRI), an international stuttering research and therapy center headquartered in Roanoke, Virginia, received a $100,000 gift from Sander A. Flaum, principal of New York-based Flaum Navigators. Flaum is a sought-after leadership consultant, business speaker, best-selling author, adjunct professor at Fordham University Gabelli School of Business, and host of a weekly radio show.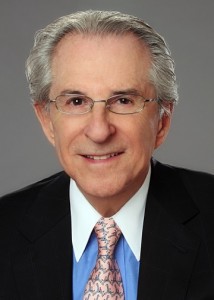 Flaum has been an ardent supporter of HCRI through the years. The institute is a 45-year-old nonprofit organization led by Ronald L. Webster, Ph.D. Webster and his research scientists invented the first science-based, behavioral therapy for stuttering that imparts life-long fluency skills.
Continually enhanced with the latest research and treatment technology, HCRI's 12-day program delivers among the highest documented fluency outcomes for stuttering therapy.
Flaum's gift will be used over the next ten years for HCRI stuttering therapy scholarships to help individuals with financial challenges attend the institute's stuttering treatment program.
"Sander's support of HCRI through the years, including this latest gift, makes life-changing therapy accessible for those who struggle with stuttering," Webster said. "His generosity directly impacts lives by enabling individuals to participate in HCRI stuttering therapy and realize their full potential through fluency."
Flaum has spent his career leading and motivating businesses to excel and is recognized as one of the "100 Most Inspiring People" by PharmaVoice. He travels the country to meet with heads of business, conduct marketing workshops, and speak at conferences and college commencements. Yet, with his impressive public persona, no one would know that Flaum has struggled with stuttering since the age of five. In fact, his stuttering has been among his biggest barriers to overcome in life.
As a child, Flaum's stuttered speech inhibited his ability to speak freely and express himself. Despite trying traditional speech therapy, as he got older his stuttering became increasingly pervasive, affecting him personally and professionally.
"People thought I was less intelligent or had mental deficiencies because I stuttered," Flaum said. "There is a tremendous amount of ignorance and misconceptions that surround stuttering."
While enduring ridicule and often being overlooked because of his stuttering, Flaum continued to push forward to achieve his goals. He was inspired by his encouraging mother who told him that "you have to work harder and smarter" to succeed as a stutterer.
When Flaum was in his early thirties, he heard about the advanced stuttering therapy at HCRI. He enrolled in the treatment program and found the experience to be transforming. Flaum learned new ways to use his speech muscles to control his stuttering and speak fluently at will. After he returned home, Flaum regularly practiced the skills he learned at HCRI to habituate his newly acquired fluency. The ability to speak fluently changed his life and enabled the business executive to realize his career goals.
After his experience with HCRI, Flaum became an advocate for others who stutter and made a commitment to make effective stuttering therapy more accessible. He started the Rose Flaum Foundation, named for his mother, to fund stuttering therapy scholarships to help individuals attend HCRI therapy.
According to Flaum, "Most stutterers go through a lot of adversity. The key is to not let it get to you. Instead, you have to work harder and smarter, as my mother always said. For me, giving my all and HCRI stuttering therapy made the difference."
Working harder and smarter has become Flaum's beacon for all aspects of his life. It has served him well and he uses it to inspire others.
About HCRI
HCRI was founded by Ronald L Webster, Ph.D. in 1972 to investigate stuttering through scientific discovery and treatment innovation. Virginia-based HCRI, a 501 (c) (3) charitable organization, has become an international leader in stuttering research and the development of scientifically derived therapy approaches.
More than 6,500 people from across the U.S. and 50 countries have come to HCRI for stuttering treatment. Clients come from all walks of life and include teachers, business professionals, athletes, broadcasters, engineers, musicians, students, doctors, military personnel, police officers, actors, a Supreme Court nominee, and even royalty.
HCRI is located at 7851 Enon Drive, Roanoke, Va. 24019. For more information, visit www.stuttering.org or contact HCRI at 855-236-7032.
How You Can Donate
HCRI depends on gifts of all amounts from HCRI alumni and friends to continue operations and make therapy accessible to individuals who stutter. Gifts small and large will make a difference in the nonprofit center's ability to help those who stutter transform their lives through fluency.  Please donate at stuttering.org/donate.php. All gifts are tax deductible.