Hollins Communications Research Institute (HCRI), a national center for stuttering research and treatment innovation, welcomes Sarah Buchholz, M.Ed., CCC-SLP, a speech-language pathologist joining HCRI's expert team of stuttering therapists.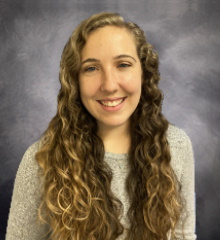 Sarah brings to HCRI strong experience working in a clinical team environment. She has treated students and other patients for a variety of fluency, language, and speech-sound disorders. An ardent interest in stuttering and HCRI's science-based therapy drew her to the institute.
"Stuttering is difficult to treat effectively with traditional speech therapy. I experienced this first hand," Sarah said. "Yet, HCRI's approach is vastly different and more effective than anything I've seen in the field. It transforms speech. When I heard about the open position, I knew I wanted to be a part of the institute's work."
Sarah received her Master of Education in Speech-Language Pathology at the University of Virginia (UVA). For her undergraduate studies, she earned a degree in Special Education Integrated Studies at Liberty University.
Sarah completed HCRI's rigorous 500-hour training that certifies her to administer the nonprofit center's advanced stuttering therapy program. Certification is required of all HCRI clinicians to ensure clients benefit from consistent, precise delivery of HCRI therapy and the highest standards of clinical excellence.
According to HCRI President Ronald L. Webster, Ph.D., "We are pleased to have Sarah on our clinical team. From day one, she has shown her dedication to HCRI therapy excellence and serving the needs of our clients."
Sarah joins stuttering therapists Candy Smith, Amy Finch, Kristin Stanley, and Courtney Stackhouse in administering HCRI's 12-day treatment program, as well as serving HCRI alumni.
In her free time, Sarah enjoys running, hiking, exercising, and spending time with her husband, Carl, and their two dogs. They also are devotees of UVA sports and activities.
About HCRI

HCRI was founded by Ronald L Webster, Ph.D. in 1972 to investigate stuttering through scientific discovery and treatment innovation. Virginia-based HCRI, a 501 (c) (3) nonprofit organization, has become an international leader in stuttering research and the development of scientifically derived therapy approaches.
Nearly 7,000 individuals from across the U.S. and 50 countries have come to HCRI for stuttering treatment. Clients come from all walks of life and include teachers, business professionals, athletes, broadcasters, engineers, musicians, students, doctors, military personnel, police officers, actors, a Supreme Court nominee, and even royalty.
HCRI is located at 7851 Enon Drive, Roanoke, Va. 24019. For more information, visit www.stuttering.org or contact HCRI at 855-236-7032.