Hollins Communications Research Institute (HCRI) is recognized nationally for providing advanced treatment for stuttering, along with extensive post-therapy support to alumni from across the country and around the globe. Yet, as our institute name reflects, research is inherent to our mission. We are committed to furthering the understanding of stuttering and how to treat the condition most effectively.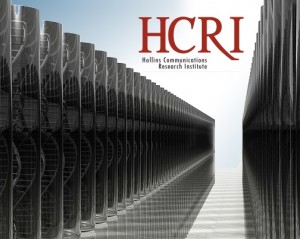 We continually work on the frontiers of knowledge and technology to improve the analysis and treatment of stuttering.
The outcomes of recent research include the rollout of our remote-access refresher program for HCRI alumni and a new children's stuttering therapy program.
In addition, we have exciting, new research endeavors underway that are summarized below. Much of this groundbreaking research can only be conducted at HCRI. The scope and depth of our experience makes such work possible.
Genetics of Stuttering and HCRI Stuttering Therapy Efficacy
We have partnered with Dr. Dennis Drayna and his team at the National Institute on Deafness and Other Communication Disorders to evaluate the impact of HCRI therapy on individuals who have mutant genes for stuttering and those who do not possess such genes. The research is now complete and we are awaiting publication of the findings. Once the article is published, we will be in a position to discuss the results and implications for our treatment of stuttering.
Quantitative Measurement of Fluent and Stuttered Speech
One of the great challenges with stuttering treatment lies in the subjective scoring of disfluent speech events. To address this, we are working on the first ever system to quantitatively measure and track stuttered vs. fluent speech through multidimensional acoustic analysis. Through the real-time scoring of critical speech parameters, we will be able to advance the effectiveness of both the assessment and treatment of stuttering.
These and other research initiatives are made possible through ongoing support from HCRI alumni and friends. As a 501(c)(3) nonprofit organization, HCRI relies on gifts to continue changing lives through fluency. By donating to HCRI, individuals help…
Fund important new research to enhance the understanding of stuttering and its treatment, with the ultimate objective of finding a cure.
Provide essential operational support that enables HCRI to continue providing life-changing stuttering therapy.
Make therapy scholarships possible for individuals in need.
Donors may designate their tax-deductible gift to be used for research, scholarships and/or HCRI's operating fund. One hundered percent of donation dollars are used to advance the understanding and treatment of stuttering.
If you are interested in helping individuals who stutter through a gift to HCRI, please click here: Donate to HCRI >>
About HCRI Stuttering Therapy
HCRI's stuttering therapy is a science-based, immersion program that teaches individuals how to control stuttering by replacing faulty muscle movements that give rise to stuttering with new muscle behaviors that generate fluent speech.
For 12 days, therapy participants work in a small group setting and are guided by specially trained clinicians who teach skills that help individuals overcome stuttering and speak fluently. HCRI's therapy technology is used in the treatment process to help individuals acquire fluency with greater ease and precision. Therapy takes place in the clinical environment, as well as in real-world settings.
By the end of 12 days, research demonstrates that 93 percent of participants achieve fluent speech. Follow-up studies reveal that 75 percent of clients maintain their fluency skills when evaluated two years post therapy.
Watch before-and-after therapy videos >>
To learn more about HCRI's stuttering therapy approach, call (540) 265-5650 or send an email to info@stuttering.org.