Marion Koestenberger of Chicago, Illinois has stuttered ever since she can remember. Her inability to speak fluently eroded her confidence and self-perception throughout her school years. She was terrified whenever she was asked to say her name, read out loud, or participate in class.
Her classmates thought she couldn't read because of her speech. Marion feared they also thought she was "stupid." In fact, she was an excellent student. She simply had difficulty talking. When Marion was 12 years old, her parents enrolled her in speech therapy offered at a nearby university. It was ineffective.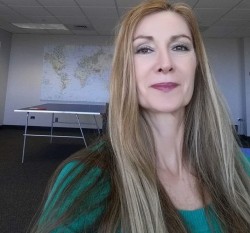 Yet, she pushed forward through high school and graduated with honors before going to college and earning her degree. As Marion grew older, she dealt with her stuttering by substituting words she couldn't say and by avoiding situations that would highlight her speech challenges. All the while, she continued to feel unsure of herself and limited in life because she couldn't speak fluently.
Then, Marion heard about Hollins Communications Research Institute (HCRI – www.stuttering.org) from a friend who saw a story on ABC's 20/20 about the center's breakthrough treatment. The television show highlighted how HCRI stuttering therapy helped national broadcaster John Stossel overcome his stuttering, paving the way for a successful television career. Inspired by his story, she contacted HCRI and enrolled in the non-profit institute's program.
HCRI stuttering therapy was created by stuttering expert and clinical psychologist Ronald L. Webster, Ph.D. It is the first comprehensive, behavioral treatment program for stuttering – and has been continually refined through the years. Dr. Webster's early research revealed that stuttering is physically derived, which is in sharp contrast to prevailing assumptions that stuttering is emotionally based.
According to Dr. Webster, the repetitions, prolongations and voice blockages that individuals label as stuttering are caused by speech muscles that misbehave. "At HCRI, we applied our findings to develop an innovative, science-based therapy that teaches participants how to replace abnormal muscle contractions that cause stuttering with detailed, new muscle movements that generate fluent speech," Dr. Webster said.
"Participating in HCRI's stuttering therapy program was hard work. I learned new ways to use my speech muscles and how to adjust my breathing to produce fluent, spontaneous speech." Marion explained. "After therapy, I could finally talk. HCRI changed my life."
Research demonstrates that HCRI stuttering therapy helps 93 percent of participants achieve fluency by the end of their 12-day treatment program. Follow-up studies reveal that 70 to 75 percent maintain fluency for the long term.
Marion's ability to speak fluently opened new doors for her career and enabled her confidence to soar. To sustain fluent speech, Marion is quick to point out that practice after therapy is key to maintaining speech-muscle memory. "Like the game of golf, you've got to be serious about practicing to sustain your skills. Otherwise, your muscles will not do what you need them to do," she said.
More than a decade after her therapy, Marion returned to HCRI for refreshers to hone her fluency skills. For many, HCRI stuttering therapy is a one-time experience. Others take advantage of HCRI's post-therapy support and refresher programs to help keep their fluency on track.
Recently, Marion participated in HCRI's new remote-therapy refresher program after she was asked to represent her division at a corporate event, where she would be speaking with more than a hundred associates. She wanted to ensure her fluency was exacting. From her home, she used FaceTime to receive individualized counsel from one of HCRI's specially trained clinicians. She also used HCRI's proprietary therapy software to practice her fluency skills. As a result, Marion was fully prepared and her participation at the event was a success.
"My advice to anyone who stutters is to go to HCRI. If I can do it, you can too. It will transform your life," she added.
___________________________
About HCRI
HCRI was founded by Ronald L Webster, Ph.D. in 1972 to investigate stuttering through scientific discovery and treatment innovation. Virginia-based HCRI, a 501 (c) (3) charitable organization, has become an international leader in stuttering research and the development of scientifically derived therapy approaches.
More than 6,500 people from across the U.S. and 50 countries have come to HCRI for stuttering treatment. Clients come from all walks of life and include teachers, business professionals, athletes, broadcasters, engineers, musicians, students, doctors, military personnel, police officers, actors, a Supreme Court nominee, and even royalty.
HCRI is located at 7851 Enon Drive, Roanoke, Va. 24019. For more information, visit www.stuttering.org or contact HCRI at (540) 265-5650.