NEWS ANNOUNCEMENT
Hollins Communications Research Institute (HCRI – www.stuttering.org), an international stuttering research and therapy center headquartered in Roanoke, Virginia, has received a $200,000 gift from national television journalist John Stossel.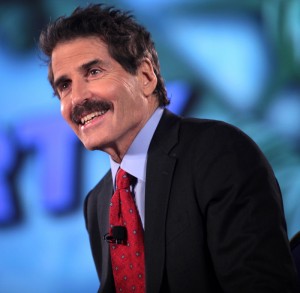 Mr. Stossel is a former HCRI stuttering therapy client. He is an Emmy Award winning television journalist, news anchor, book author, columnist, and pundit. Mr. Stossel is recognized for his distinguished career on ABC News and Fox Business Channel, as well as his libertarian perspectives on Stossel TV.
"This meaningful gift will enable our nonprofit institute to continue helping individuals who stutter open doors of opportunity that were never before possible," said HCRI President Ronald L. Webster, Ph.D. Funds from Mr. Stossel's  donation will be used to support the center's therapy scholarship program and stuttering research initiatives.
"We are grateful for John's generosity in supporting our important cause. His impressive communication skills are a fine example of how HCRI's science-based therapy can help individuals stop stuttering and speak fluently in all types of situations," Dr. Webster said.
Mr. Stossel has been an ally of HCRI through the years. He has promoted the institute in news stories and provided financial support. In recognition of Mr. Stossel's generous gift, HCRI is designating clinical space at the institute in his name.
HCRI therapy participants spend 12 days in HCRI's clinic learning lifelong skills that enable them to stop stuttering and speak fluently. The institute's stuttering treatment program delivers among the highest documented fluency outcomes for stuttering therapy. Research demonstrates that 93% of program participants achieve fluency by the end of HCRI therapy. When evaluated two years after treatment, 75% of clients sustained their fluency skills.
Mr. Stossel made his donation to HCRI using bitcoin, which was the institute's first experience accepting a gift in digital currency. Dr. Webster noted that processing the cryptocurrency donation was an intriguing learning experience – and likely an indicator of what is in store for future gifts across nonprofits.
More than 7,000 people from the U.S. and 50 countries have come to HCRI for stuttering treatment. Clients come from all walks of life and include teachers, business professionals, athletes, broadcasters, engineers, musicians, students, doctors, military personnel, police officers, actors, a Supreme Court nominee, and even royalty.
The institute was founded by Dr. Webster to investigate stuttering, develop new treatment approaches, and administer life-changing stuttering therapy. Stuttering impacts three million people in the U.S. and 66 million people globally.
HCRI is a 501(c)(3) nonprofit organization and is in its 49th year of operation. The center is located at 7851 Enon Drive, Roanoke, Va. 24019. For more information, visit www.stuttering.org or contact HCRI at 855-236-7032.