THE TRANSFORMING EFFECT OF HCRI STUTTERING THERAPY
Dallas native Connor Lane can't remember a time when he didn't stutter. While growing up, he couldn't say his name. He feared meeting new people. He refrained from participating in class discussions. And, he couldn't order food in restaurants.
As a teen, Connor's stuttering continued to worsen. His inability to speak fluently impeded his quality of life. Yet, he tried to stay positive and kept pushing forward, making the best of circumstances with each passing day. He spent his time focusing on his grades and exploring his interests.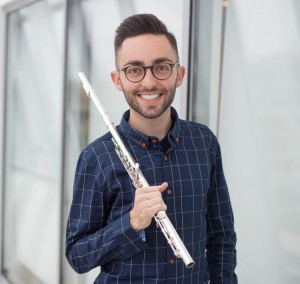 One particular interest that evolved into a passion was his love of music and playing the flute. Connor would practice for hours and perform in school recitals. Though, as he progressed with his musical skills, the speech blocks from his stuttering extended to his flute playing. Connor experienced issues with tongue articulation and control that got in the way of his ability to play.
Fast Forward to the Present
Today, Connor is working on his Doctoral in Musical Arts at University of Memphis and is a graduate assistant teaching music appreciation. Three times a week, he delivers the subject matter to a class of 150 students, while fielding questions during his presentations. His speech is fluent and eloquent.
At the same time, with his immense talent as a flutist, he is a member of the university's orchestra and performs with area ensembles. He plays with precision and emotion, absent of the worry he once had about tongue control.
Enabling the Dramatic Change    
When Connor was a senior attending Bowling Green State University, he reached a point where he knew he needed to do something about his stuttering once and for all. He did not want his speech to get in the way of his ability to achieve his dream of becoming a college professor and an accomplished flutist.
His prior experience with speech therapy earlier in college was ineffective so he began researching other treatment options. An online search led him to the 12-day stuttering therapy program at Hollins Communications Research Institute (HCRI – www.stuttering.org).
"When I read about HCRI's program, it was clear that the approach was different from other therapies." Connor said. "I watched the before-and-after videos and could tell this therapy is something special."
Then, Connor contacted the Virginia-based institute for more information and applied to HCRI's therapy program. He knew attending involved a meaningful investment of his time, money and dedication to the therapy process. He was ready for it.
HCRI's Immersion Program
HCRI stuttering therapy is a science-based, behavioral treatment, which was invented by HCRI President Ronald L. Webster, Ph.D. Therapy involves a step-by-step treatment system that teaches individuals who stutter how to replace faulty speech-muscle movements that cause stuttering with new muscle behaviors that generate fluent speech. Through this 12-day immersion program, people acquire the ability to control their stuttering and speak fluently in all types of situations.
"HCRI stuttering therapy is a comprehensive, one-of-a-kind treatment that has been tested and proven with thousands of cases that range from mild to severe," Dr. Webster said. "No other stuttering treatment replicates the sophistication of HCRI stuttering therapy – or the individualized approach from which clients benefit."
The Experience
At HCRI, Connor spent eight hours a day working one-on-one with specially trained clinicians and learned new ways to use his speech muscles to stop stuttering. Therapy took place in HCRI's clinical setting, as well as in real-world environments. He practiced his newly acquired speaking skills with other participants who stuttered and used HCRI's proprietary treatment technologies.
"The therapy was like a much-needed shock to my system. It was challenging, but such a huge opportunity to learn. I took it very seriously," Connor said.
As each day passed, Connor's speech continued to transform and his stuttering continued to diminish. He left HCRI with the ability to speak fluently and spontaneously. He also left with a comprehensive package of post-therapy support that included on-going phone support with clinicians, fluency practice software, program materials, and an iPhone app to help him practice and check his fluency skills.
Connor added, "The therapists guided me every step of the way. I worked primarily with Holly Humphreys who encouraged me, challenged me, and helped me achieve fluency. She was great to work with and I stay in contact with her regularly."
Fluency through HCRI Therapy
Mrs. Humphreys, HCRI's clinical supervisor, said Connor's fierce dedication to the therapy process helped propel his success in the program. "He followed each step of the program to a T and worked diligently each day. Since returning home, Connor checks in with me whenever he needs guidance and support, which I encourage all of our clients to do."
Mrs. Humphreys noted that Connor is a great role model for how to work hard and achieve lasting fluency with the HCRI program. Research demonstrates that 93% of HCRI participants achieve fluency by the end of their 12-day program. Follow-up studies reveal that 75% of participants maintain fluency when evaluated two years later.
Through the ability to speak fluently, Connor is well on his way to accomplishing his life goals to be a professor and sought-after flutist. According to Connor, "What I got from HCRI was life changing. The experience was priceless."
__________
About HCRI
HCRI was founded by Ronald L Webster, Ph.D. in 1972 to investigate stuttering through scientific discovery and treatment innovation. Virginia-based HCRI, a 501 (c) (3) charitable organization, has become an international leader in stuttering research and the development of scientifically derived therapy approaches.
More than 6,500 people from across the U.S. and 50 countries have come to HCRI for stuttering treatment over 12 days. Clients come from all walks of life and include teachers, business professionals, athletes, broadcasters, engineers, musicians, students, doctors, military personnel, police officers, actors, a Supreme Court nominee, and even royalty.
HCRI is located at 7851 Enon Drive, Roanoke, Va. 24019. For more information, visit www.stuttering.org or contact HCRI at (540) 265-5650.