Sean Griffin of Princeton, New Jersey had his sights on a career in broadcast journalism when he entered Rutgers University four years ago. To help accomplish his career ambition, he double majored in journalism and sports management.
Adding practical experience to his studies, he volunteered as a play-by-play sports announcer for the university's radio station, as well as served as an intern for a nationally syndicated morning news show and at SiriusXM.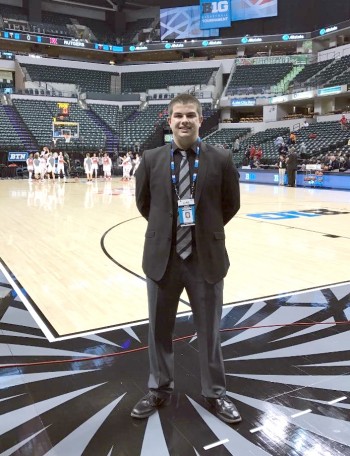 Through steadfast motivation and hard work, Sean was on his way to attaining his goal. There was only one thing that stood in his way. His stuttering. Sean characterized his stuttering as a mild-to-moderate condition.
To proactively address his stuttering and prepare for his future career, Sean enrolled in two different speech therapy programs while at college. He experienced some improvement in his fluency after each; yet, the results were not lasting.
Then he learned about Hollins Communications Research Institute (HCRI) and the center's unique approach to stuttering treatment. HCRI's 12-day immersion therapy utilizes science and principles of learning to help individuals who stutter acquire skills to control stuttering and speak fluently.
According to HCRI President Ronald L. Webster, Ph.D., "HCRI's therapy approach is systematic and rigorous. Our specially trained clinicians teach participants step-by-step how to retrain their speech muscles to produce sustained fluent speech."
Sean found his experience with HCRI stuttering therapy to be challenging, yet rewarding. "I went into the program with the attitude of giving it my all," he said. "I found the therapy to be intense, but extremely effective."
What was unexpected for Sean was the welcoming atmosphere at HCRI and all the relationships he made. In addition to connections with HCRI clinicians that continue today, he noted the benefit of getting to know other program participants.
"Meeting other people who stutter gave me a sense of comfort and reinforcement because they were experiencing the same issues as me. I wasn't alone," he said.
Sean added, "Since my therapy six months ago, I have become more confident in myself and my speaking abilities. I continue to practice the fluency skills I learned and check in with my clinician regularly."
Ongoing clinician contact and post-therapy practice are important elements of the HCRI experience. They help clients habituate fluency skills learned during therapy. HCRI provides clients with a comprehensive package of practice tools and support once they complete their 12-day program. This kit includes fluency-practice software, therapy manuals, and a proprietary mobile app that help keep fluency skills on track.
"Finding HCRI has been a true blessing for me. I've learned how to manage my stuttering and that has helped me move forward in life," he added
Since graduating from Rutgers and attending HCRI, Sean started a new chapter in his life. He landed a new job after an extensive interview process that involved face-to-face meetings and testing. He is now working for ABC News as a producer, fulfilling his career goal to work in broadcast journalism.
About HCRI
HCRI was founded by Ronald L Webster, Ph.D. in 1972 to investigate stuttering through scientific discovery and treatment innovation. Virginia-based HCRI, a 501 (c) (3) charitable organization, has become an international leader in stuttering research and the development of scientifically derived therapy approaches.
More than 6,500 people from across the U.S. and 50 countries have come to HCRI to achieve fluency. Clients come from all walks of life and include teachers, business professionals, athletes, broadcasters, engineers, musicians, students, doctors, military personnel, police officers, actors, a Supreme Court nominee, and even royalty.
HCRI is located at 7851 Enon Drive, Roanoke, Va. 24019. For more information, visit www.stuttering.org or contact HCRI at (540) 265-5650.