At Hollins Communications Research Institute (HCRI – www.stuttering.org), we are sometimes asked whether our 12-day therapy is available as an online stuttering therapy program. It certainly would be more convenient for many. Though currently, the answer is "no." Yet, what about the future? Would the fluency results with online stuttering therapy be the same as our in-person program?  Read on for more on this topic.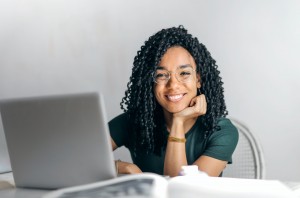 In an age when web-based doctor appointments and digital education are increasingly popular, HCRI has approached the online arena carefully and thoughtfully. This is out of concern for maintaining the quality and outcomes of the institute's proven stuttering therapy program.
Based in Roanoke, Virginia, HCRI is an international leader in stuttering research and treatment innovation. Since the nonprofit center opened in 1972, HCRI has consistently broken new ground in the treatment of stuttering. Researchers at HCRI invented an innovative 12-day that has been continually refined through the years. This 12-day program delivers among the most successful fluency results of any stuttering treatment.
Research demonstrates that 93% of HCRI therapy participants achieve fluency by the end of their program. And, 75% maintain fluent speech when evaluated two years later. The success of HCRI's stuttering therapy is based on research with thousands of stuttering cases – from mild to severe.
"HCRI's program involves applying stringent principles of learning, along with precise clinical protocols and personalized guidance by trained clinicians." said HCRI President Ronald L. Webster, Ph.D. "This rigorous, individualized approach is difficult to replicate online without potentially compromising therapy quality and results."
Yet, Dr. Webster and his researchers have never shied away from a challenge in the institute's 49 years. Recognizing the growing interest in online services, Dr. Webster and his team are presently evaluating the viability of online access to HCRI treatment. They are developing different virtual approaches, which will be tested and analyzed before an online option is introduced. Beta testing will begin late this year.
"We will not introduce an internet version of HCRI therapy until data proves the web-based program delivers the same results as the institute's in-person therapy," Dr. Webster emphasized.
Online therapy is not an unfamiliar concept to HCRI. For a number of years, the institute has offered past therapy participants a virtual option to refresh their fluency skills. According to Dr. Webster, this offering to HCRI "alumni" is effective because individuals are experienced with program details. In addition, participants are focused on honing fluency skills – not learning them from scratch.
Advantages of In-Person HCRI Therapy
Highly Individualized Learning. HCRI's one-of-a-kind therapy is grounded in research and principles of learning to optimize outcomes. Therapy is also highly individualized. During treatment, HCRI clinicians provide instruction and feedback to guide participants through the process of retraining faulty speech muscle movements that give rise to stuttering. Clients are taught how to rebuild tiny details of speech-muscle behaviors to speak fluently. This very specific training and ongoing clinician feedback present challenges to successfully administer over the web.
 Access to HCR Therapy Technology. Located in-house, HCRI's computers and therapy technology make fluency skills easier to learn and more precise. These therapy aids also help participants effectively transfer fluency capabilities learned in the clinical setting to real-world situations. Clinicians closely monitor fluency performance, as participants interact with the technology.
 100% Focus, No Distractions. When clients come to HCRI, they are away from all the distractions of everyday life. For 12 consecutive days, participants immerse themselves in HCRI's intensive program and focus on acquiring skills to speak fluently for a lifetime. The richness of the HCRI experience – and the proven fluency results it delivers – are challenging to replicate via the internet.
Invaluable Support System. HCRI stuttering therapy is conducted in a small group setting. In addition to tremendous support from HCRI clinicians and staff, participants connect with others who stutter who have come from across the U.S. and globally. A special bond is often formed among therapy attendees that extends long after participants return home. This camaraderie and support adds to the therapy experience and would be difficult to fully experience with an online program.
Proven Results or Convenience?
"Making the commitment to take 12 days to solely focus on your fluency at HCRI can be one of the best investments of time you will ever make," Dr. Webster explained. "The ability to speak fluently increases confidence, enhances personal satisfaction, and opens doors of opportunity."
While HCRI is continuing to study online options for its therapy program, individuals who seek stuttering therapy are encouraged to enroll and come to the institute for its 12-day stuttering therapy. Acquiring the skills to speak fluently can transform your life.
About HCRI

HCRI was founded by Ronald L Webster, Ph.D. in 1972 to investigate stuttering through scientific discovery and treatment innovation. Virginia-based HCRI, a 501 (c) (3) nonprofit organization, has become an international leader in stuttering research and the development of scientifically derived therapy approaches.
More than 7,000 individuals have come to HCRI for stuttering treatment. Clients come from all walks of life and include teachers, business professionals, athletes, broadcasters, engineers, musicians, students, doctors, military personnel, police officers, actors, a Supreme Court nominee, and even royalty.
HCRI is located at 7851 Enon Drive, Roanoke, Va. 24019. For more information, visit www.stuttering.org or contact HCRI at (540) 265-5650.